WHAT'S FRESH? 
THESE ARE THE RECENT CHANGES TO SIMPLERO
Feb 24, 2023
Webhooks you use are now listed on the Integrations screen in the admin interface. You can use this to see where your webhooks are being used, give them useful names, and update the URLs they go to.
Feb 24, 2023
Fixed a bug where affiliate links would not track clicks if they went to a Simplero hosted page on a different account.
Feb 23, 2023
When search results on your site match the transcript of a video or audio, we will include link to that point in the video or audio.
Feb 22, 2023
People can now register for zoom events directly on the event page on Simplero (just as they always could for non-zoom events). Before, for zoom events, we always linked to the zoom registration page to register for the event when viewing the event page (even if the person viewing the event page was already registered). And there was no ability for people to see their registration status or cancel their registration. Now it will all behave exactly like it did for non-zoom events!
Feb 21, 2023
Hide zoom integration columns on the participants table for non-zoom-integrated events
Feb 16, 2023
We've integrated with an improved service for generating transcripts and subtitles from videos.
Going forward, transcripts and subtitles will not be generated automatically, but you can easily generate them from your Media Library.
We'll also generate a summary, and a list of keywords.
Translation is supported in multiple different languages, and we can also detect multiple speakers.
This feature is available to all members on the Skyrocket plan.
Feb 13, 2023
When installing a DFY template it will by default clone all the videos without labeling them. Also, we have removed the check to clone images and other assets only if the size is less than 50 MB, now any asset would be cloned. The assets will be cloned only when the DFY template is shared from some other account, in the case of the own DFY template the objects would be linked to the existing assets.
Feb 9, 2023
✨ Embedded order forms in a modal anwyhere on your site! ✨
You can now easily embed an order form in a modal anywhere on your site or landing page by using the simplero link dialog (click here/see screenshot below).
When inserting a link, just choose 'Products', select your product, then click on 'Embedded/One-step order form'.
We plan to polish a bunch of things on the one-step/embedded order forms over the next few weeks & months. But do let us know of any issues you face by opening a ticket.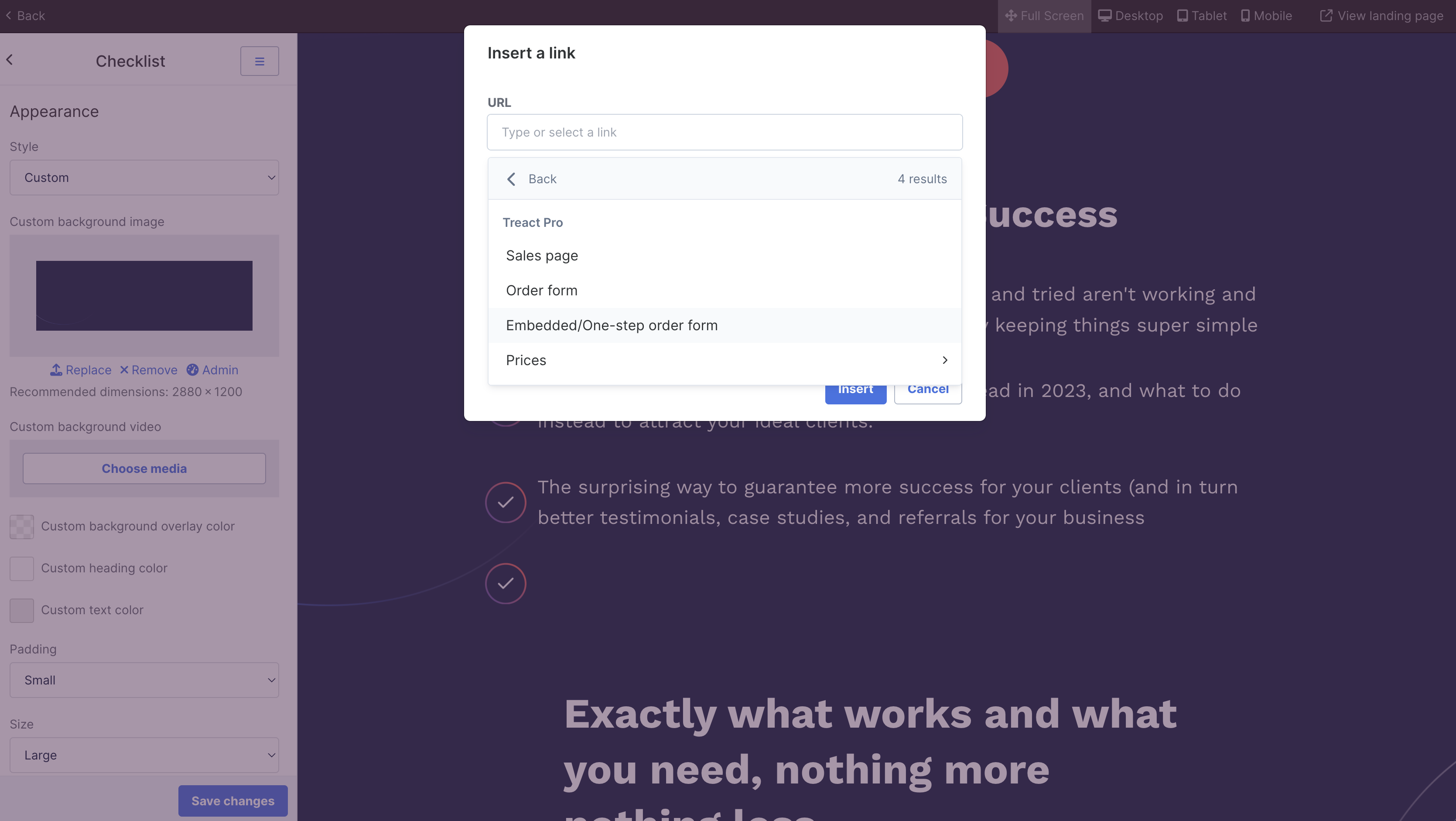 Feb 9, 2023
We'll now only append the site/account name to your page's title tag if it does not get super long (>65 characters). Before, we always appended the site/account name to the title tag. The problem with that is search engines might cut-off part of the text with '...' if it's very long. This applies to any page on the site (e.g course lessons or forum posts) as well as landing pages.
Feb 9, 2023
The custom affiliate links would now track the number of opt-ins if it links to any opt-in page, the count will be recorded from today (10th Feb 2023)
Feb 8, 2023
Fixed a bug where the number of list subscribers shown when sending a broadcast or creating a segment didn't take into account subscribers imported from a CSV file.
Feb 8, 2023
Send broadcast on product would now send it to active participants instead of billing contacts.
It was always supposed to be that way, but a bug was introduced a while ago where it went to billing contacts instead of participants.
Feb 3, 2023
We have fixed the issue where it was required to check all the check boxes of a participant field on order form to purchase a product.
Jan 31, 2023
Allow sorting by additional columns in our table views
Jan 30, 2023
We've sped up updating large segments.
Jan 30, 2023
Fixed a bug where you weren't able to update a page's slug that had non-latin characters in it.
Jan 28, 2023
Added the ability to deactivate a site redirect without having to delete it. Also made it possible to inline edit the destination for a redirect.
Jan 28, 2023
Added 'move to other site' and 'duplicate to other site' as bulk actions for the Courses table
Jan 27, 2023
You can now make a landing page available on the site's home page.
Previously, if you wanted to make a landing page available on a site domain, you had to enter a path for it to use (it wouldn't allow '/', but now it will!). Doing so will make your site render the landing page when visiting the home page.
Jan 27, 2023
Fixed that you weren't able to add/edit custom CSS to a landing page by clicking on 'Edit custom CSS' on the landing page header's '...' menu.
Jan 27, 2023
We've update the design of building a segment to match that of choosing recipients for a broadcast.
Jan 26, 2023
We were mistakenly using the site's Accent Color, instead of the Navigation Text Color, for the name of the site the header, when not using a graphic logo.
Jan 26, 2023
We added a 'Cancel' link when creating a new forum post.
Jan 26, 2023
Now the search in your Admin interface will also include Courses.
Jan 25, 2023
We will now separate email open rates where it appears that the recipient has enabled Mail Privacy Protection (MPP). Learn more about email stats.
Jan 25, 2023
Now you can edit the title and the category of a forum post.
Jan 20, 2023
Emails will no longer include an unsubscribe link in cases where they can't be unsubscribed from (like an email to a specific contact outside of the context of a subscription).
Jan 20, 2023
Now you can convert any website page to landing page. Visit the page you wish to convert and from the Simplero menu choose Convert to Landing Page option. It will by default have the same URL as the website page and the website page will be deleted.
Jan 18, 2023
Fixed a bug where long automation steps would overflow out of the step box (while editing an automation) making it hard to edit/delete the automation step.
Jan 13, 2023
When sending a trigger notification we now include all contact info and a link to the contact page.
Jan 12, 2023
Fixed a bug where some products that had an auto-response with an attachment couldn't be duplicated properly.
Jan 12, 2023
Fixed broadcast preview not loading if the broadcast had lots of recipients.
Jan 12, 2023
Fixed a bug where phone custom field's country select popup didn't show correctly in the 'Subscribe form' page section
Jan 12, 2023
Improve the 'Checklist' page section to allow specifying setting for its text size/width & a setting to control how the checklist icon is aligned. Also made the checklist image size responsive, if it's above 48px.
Jan 12, 2023
Improved the 'Text & media' page section to allow specifying heading text in WYSIWYG. Also added a setting for selecting if you want the font size to be small/medium/large. While you can always use the WYSIWYG editor to specify the font-size, it's a hardcoded font-size & not mobile responsive. This new setting changes the default font size in a way that it's responsive.
Jan 12, 2023
Improved the 'Subscribe form' page section to support a couple of new settings. One for setting border radius of fields on the form (i.e how rounded the fields are in the popup) & another for how text is aligned within the field (before, the text was center aligned inside the input field, which might not be desirable by some). Also made that section 1-column if you don't provide an image for the right (before, it rendered a placeholder on the right)!
Jan 12, 2023
You can now add NPS surveys on your membership sites!
Jan 9, 2023
Social sharing links in the web version of emails now display the same way as in the emails themselves.
Jan 9, 2023
We have changed the way we track Facebook Pixel and Google Analytics events. Now if the custom thank you page is hosted by Simplero for a product or list it would not redirect you to an intermediate page on purchase instead the events would fire on the thank you page itself.
Jan 8, 2023
You can now show your site title next to the logo, instead of either-or. Go to Theme > Customize theme > Navigation > Options, and check 'Show site title even when logo is uploaded'
Jan 7, 2023
There's now a new view at Course → Content → Lessons that lets you do bulk actions on lessons within and across modules.
Jan 6, 2023
We have improved courses navigation by adding a second level of navigation to the admin courses area, this enables you to easily navigate the course module and course lesson.
Jan 6, 2023
Fixed a bug where sometimes changing the page slug from the page editor while creating a redirect did not work.
Jan 6, 2023
We have fixed the position of the back button we showed on some admin pages (e.g when editing blog settings). Previously it was in a weird center location on pages and didn't fit in. Now it should be aligned to the left.