WHAT'S FRESH? 
THESE ARE THE RECENT CHANGES TO SIMPLERO
Apr 7, 2023
✨ Round-robin & Collective scheduling ✨
We just launched round-robin & collective scheduling! Major enhancements to the scheduler feature. 

Round-robin makes it much simpler for you to allow your customers to schedule an event with a member of your team.  Create a scheduling link, include children link of other admins on your team and give out this one round-robin link to your customers who'd like to schedule an event. Then, your customers would see combined availability of your team when they try to book an event. As soon as they do a booking, we'll figure out which person on your team is available, and assign that person to that booking! 

Collective scheduling makes it possible for you to assign/include multiple team members on the same booking. Just create a scheduling link, include children links of other people on your team. When someone schedules an event using this collective link, we'll only show times where all the members you've picked are available and then once the booking is made, we'll add all those admins as attendees of the booking event!

If you'd like to learn more, take a look at our amazing detailed guide that has examples!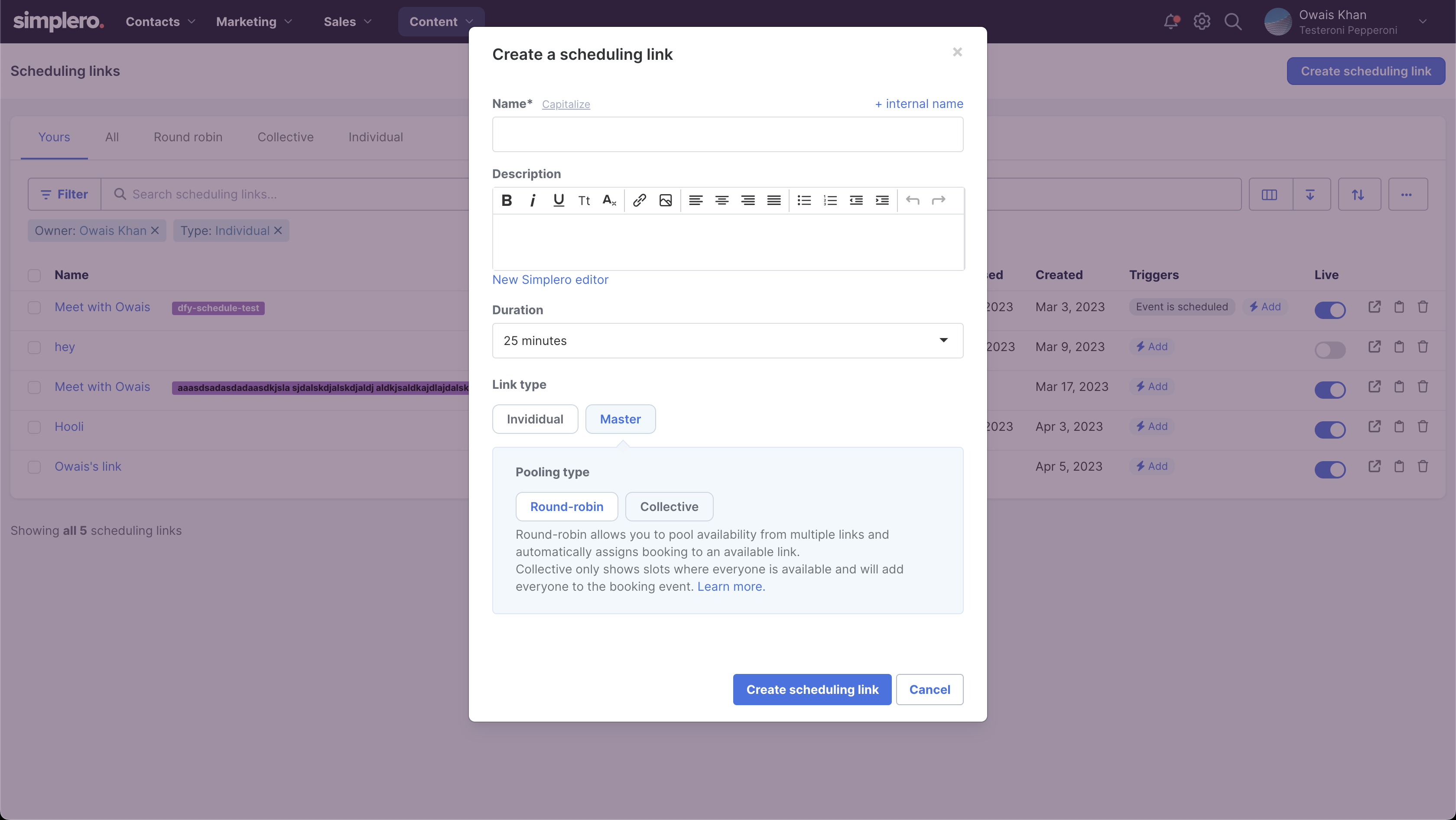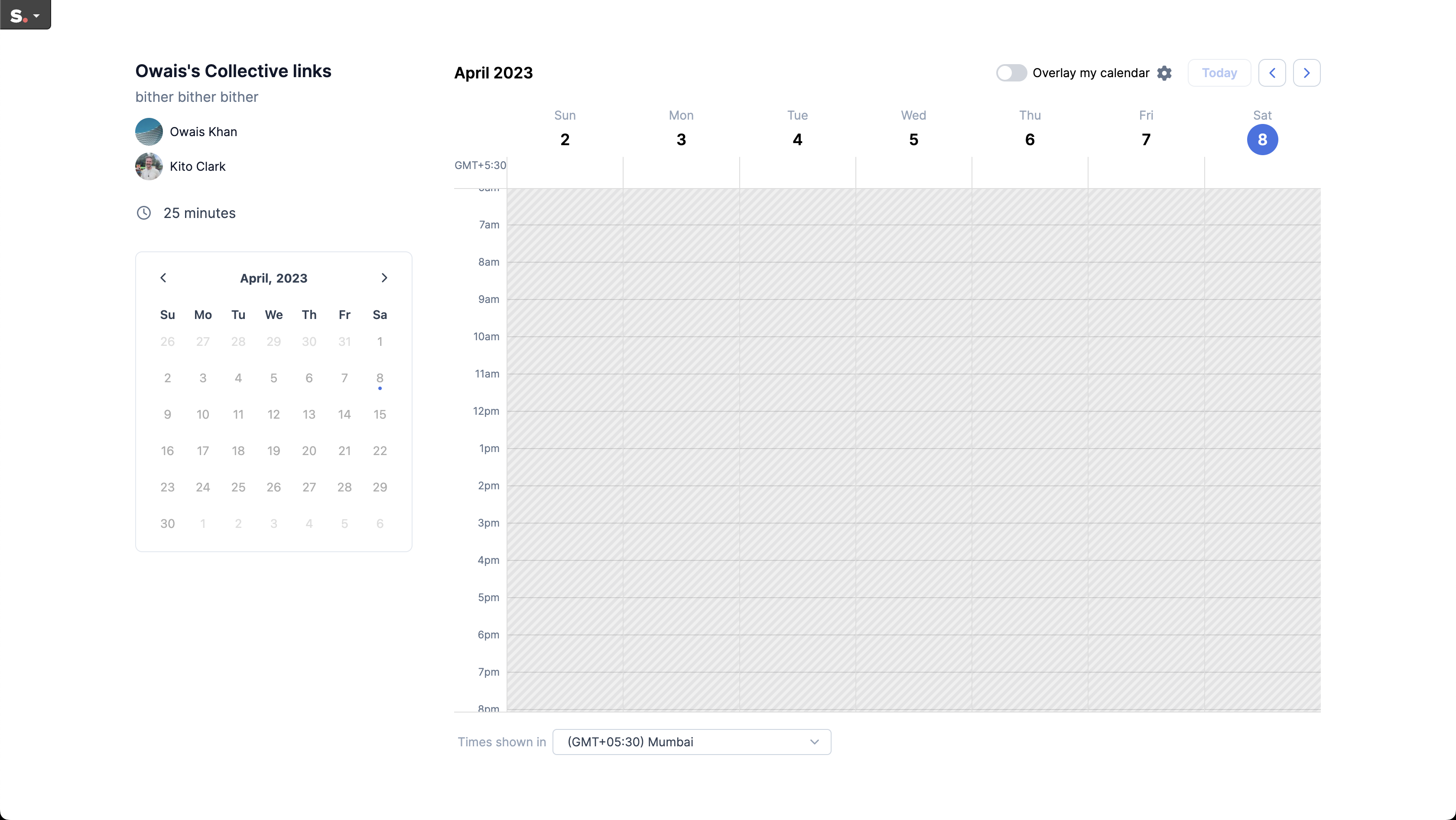 Apr 7, 2023
We'll now send calendar invites to people scheduling an event with you even if you've chosen to not connect your Google calendar to Simplero. Before, we made Google send invites if you had connected your google calendar. Now, if you don't have a google calendar, when someone schedules an event using your scheduling link, they'll receive an invite/notification from Simplero. We've still got plans to improve this (e.g sending updated invitations on rescheduling/canceling) but it's still better than nothing!
Apr 7, 2023
We've made it possible for you to create a scheduling link for another admin on your account. You now have the option to pick who the scheduling link is for while creating it. See screenshot.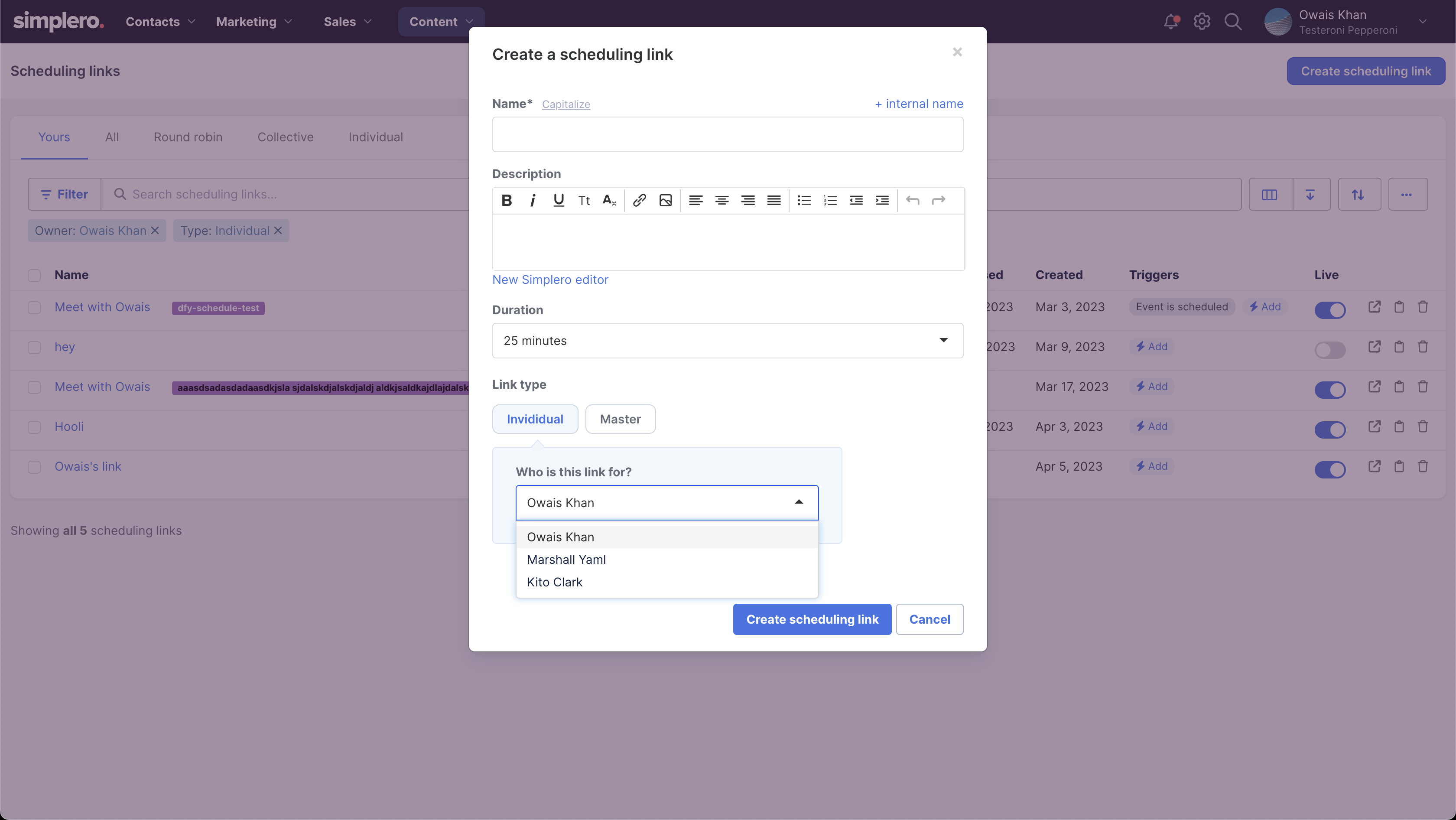 Apr 7, 2023
Include additional data in the triggers view on tables (eg. Tags and Scheduling links)
Apr 7, 2023
Made the Triggers table a bit simpler and cleaner
Apr 7, 2023
When rejecting a forum post, or a comment, you will now be able to provide clear feedback to your contact. This message will be emailed directly to them, providing them with valuable insights into why the post or comment was rejected. Find the new icon in the forum posts or comments tables.
Apr 6, 2023
You can now choose to auto-generate login info for people when you invite them to be admins on your account
Apr 6, 2023
100% increase on order bump conversions
You can now hide the price of an order bump until it's been selected, which can increase conversion by as much as 100%, from 20-30% all the way to 50-60%. That'll make a HUGE difference to your ability to acquire customers through ads. We'll still show the price before the order has been completed, but not until the order bump has been clicked.
When combined with great copy, this allows you to focus people's attention on the outcome and value they'll get, rather than what they'll pay.
Hat tip: Alen Sultanic.
PS. This is only avaliable on the new order forms.
Apr 2, 2023
When someone schedules an event with you using your scheduling link, we'll now include the following info in the calendar invite: name/email of the scheduler/organizer and the link to reschedule/cancel the event. This makes it simpler for them to reschedule/cancel.
Apr 2, 2023
We'll now show a confirmation alert before you disconnect your Google account from Simplero letting you know that you won't be able to use the associated calendars (if any) from that google account for scheduling & conflict checking.
Apr 2, 2023
You can now set defaults for your scheduling preferences and we'll use that for all your scheduling links (and you can still override them on a per link basis!)
Just go here and you'll see a bunch of settings related to scheduling link that you can choose a default for. Whenever you create a new scheduling link, we'll use the your default values. You'll still have an option to easily override all these settings on a per-link basis. This makes it much simpler for you to manage your scheduling links as you most likely want the same settings on all your links (but in cases where you want something unique you can use the override).

Enough talk! Here are some screenshots:


Your profile page where you can configure defaults as well as manage connected calendars.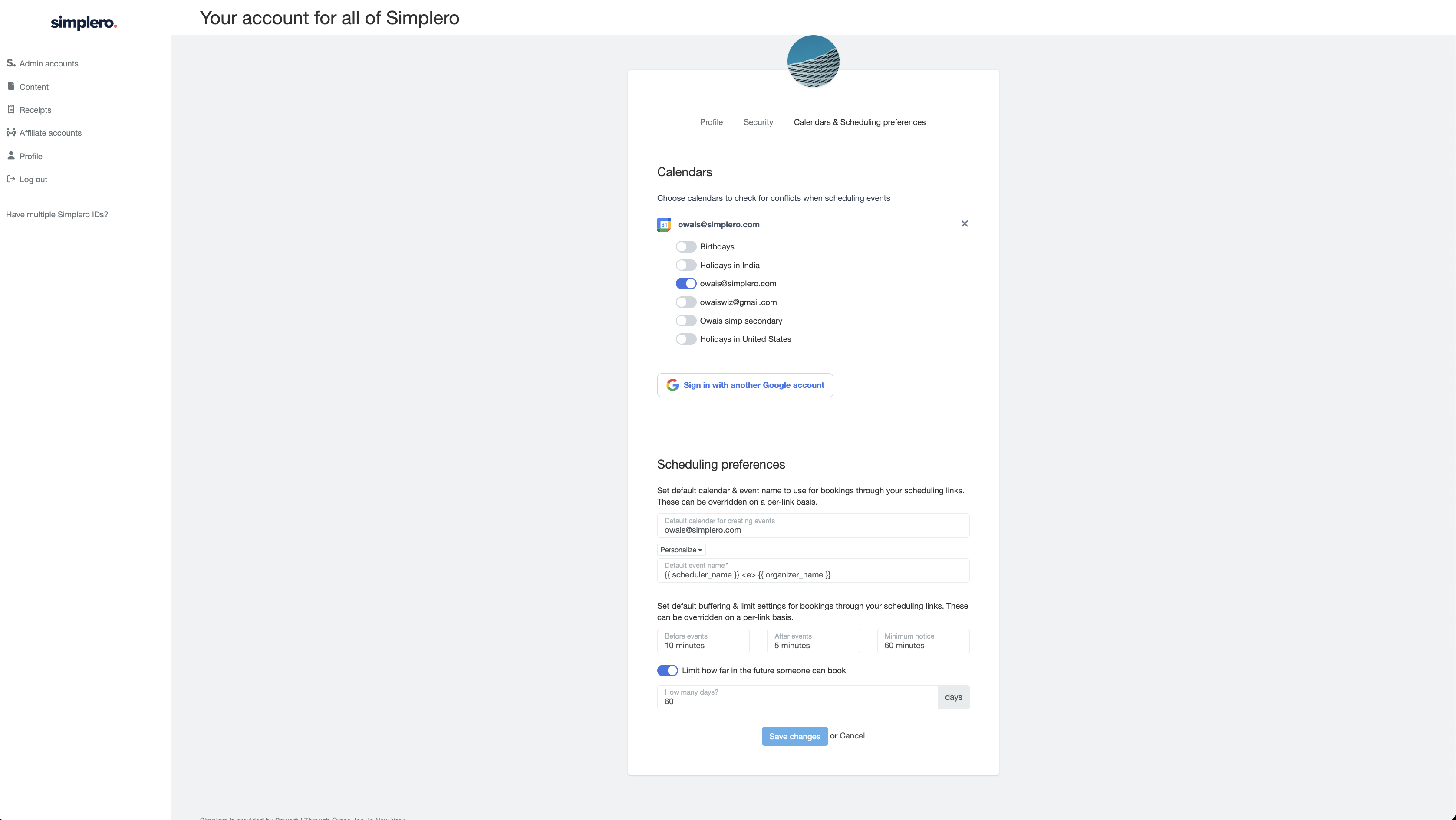 Admin page of a scheduling link where you can override the default preferences by just toggling a switch!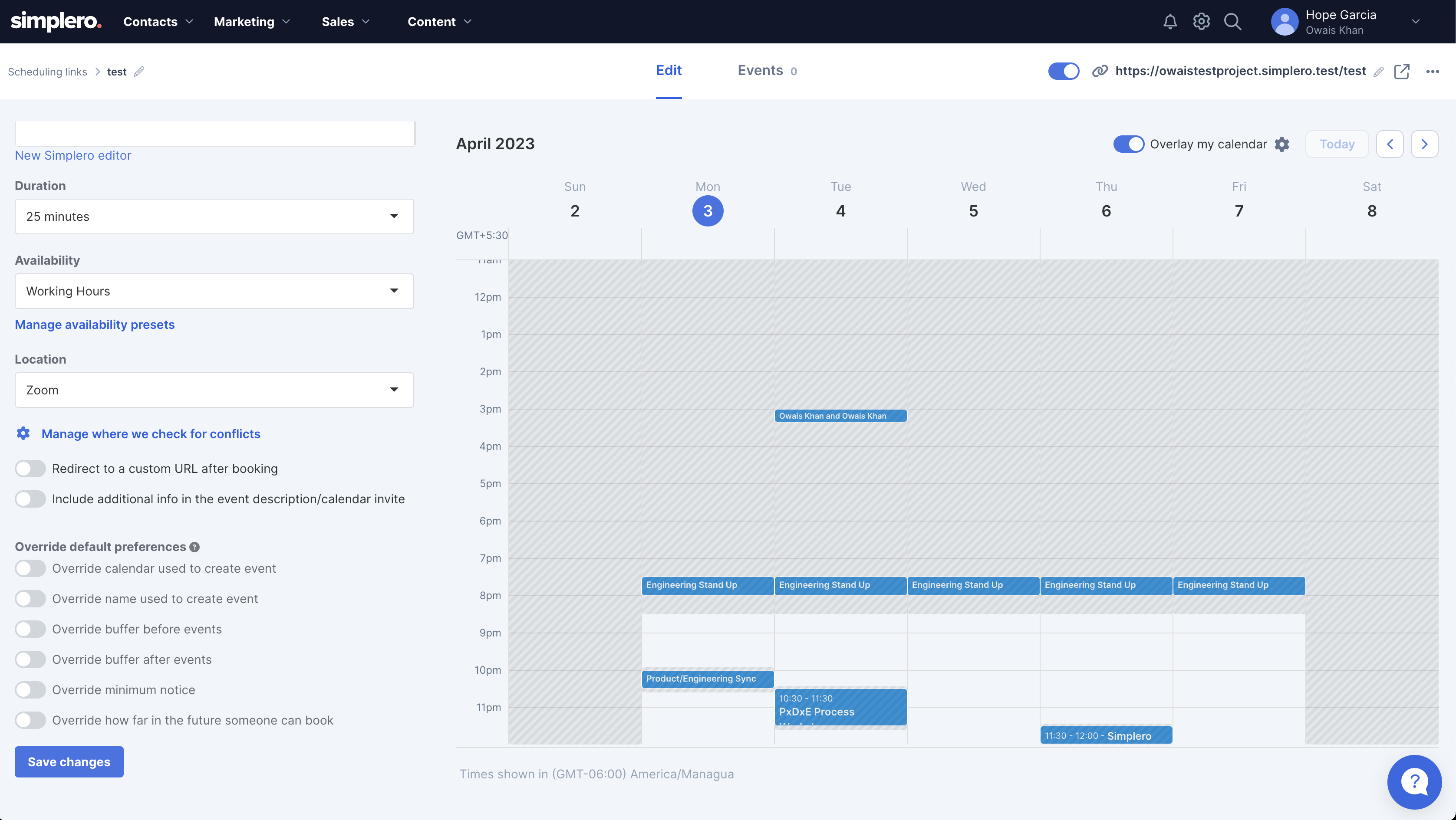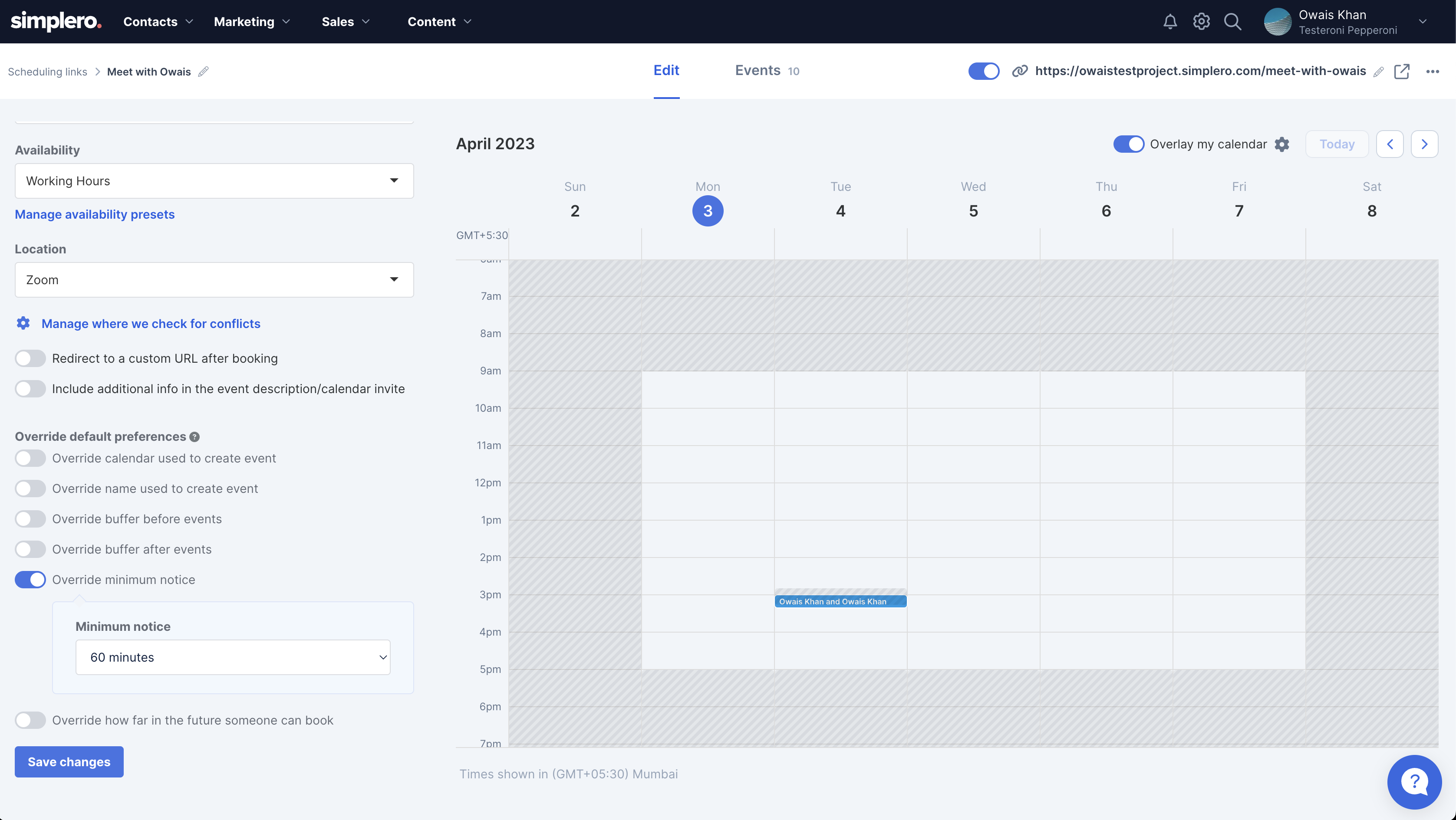 Apr 1, 2023
Booking using your scheduling link on mobile just got way prettier & simpler!
We've just rolled out a completely different booking flow when someone is booking using your scheduling link on mobile. We'll now show a date picker, that allows them to pick a date with available slots, and then select a slot and then confirm the booking by entering their details! This should be much simpler & usable than what we had before. See these screenshots: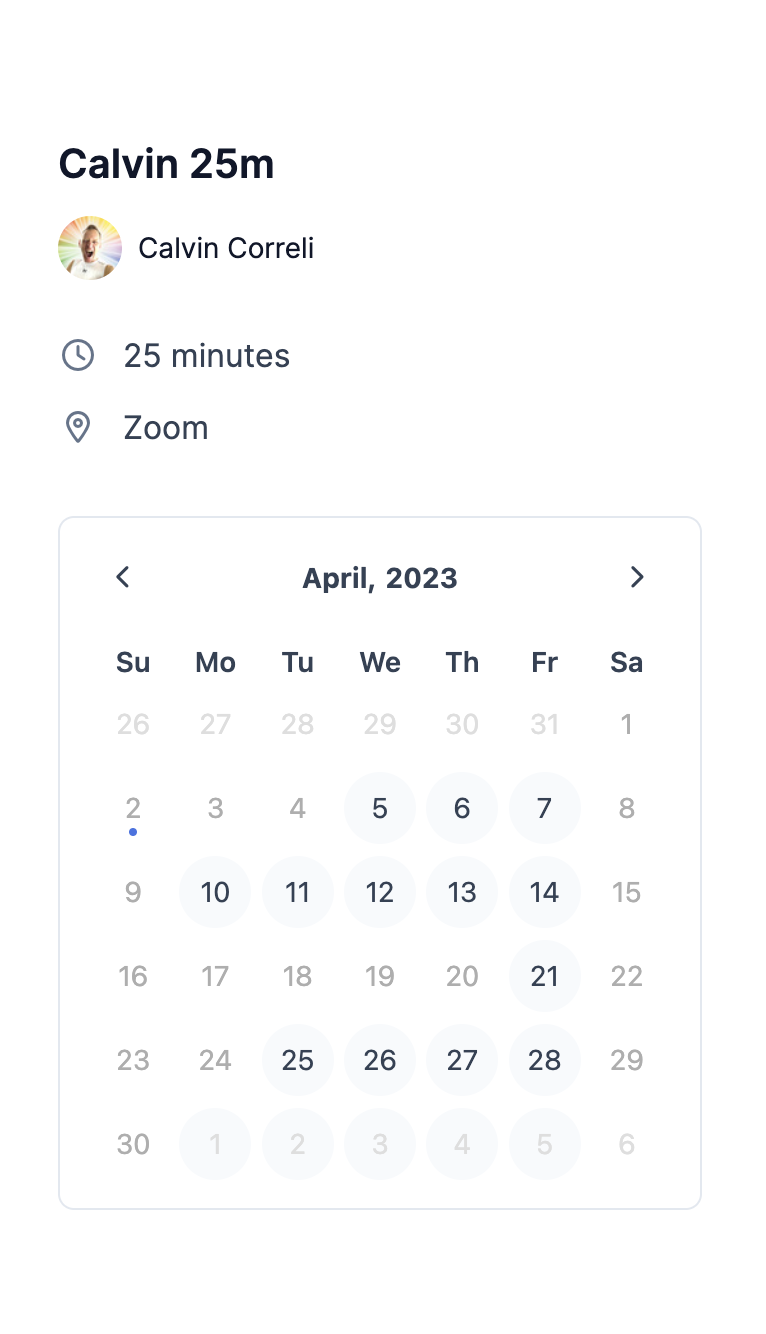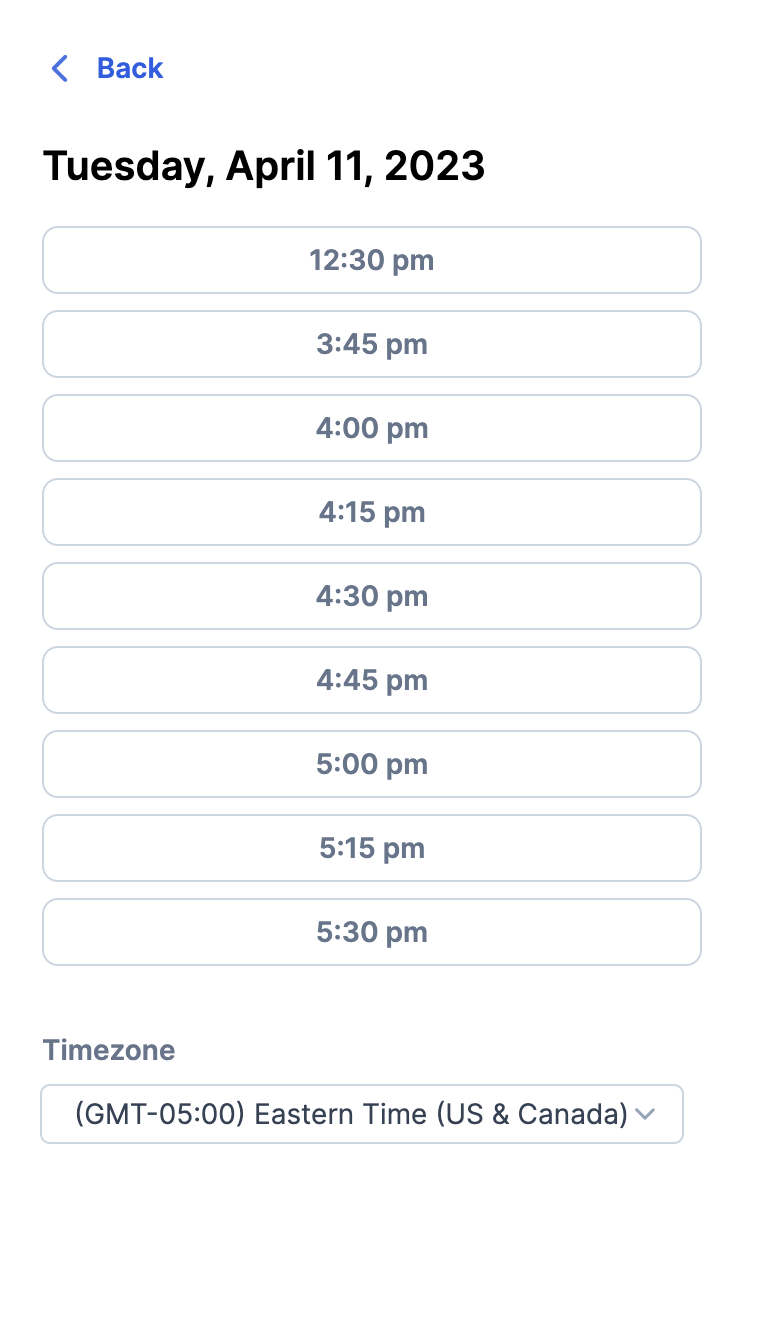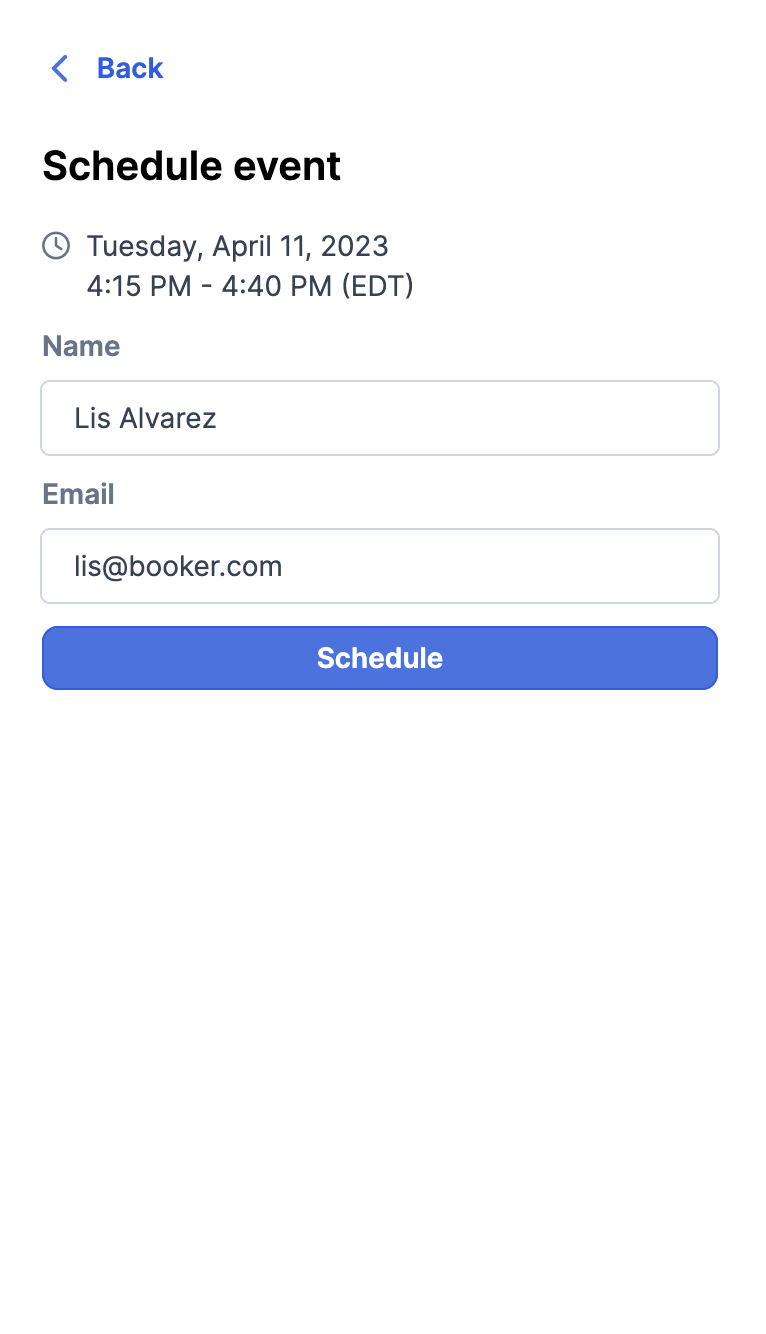 And we even added the date picker on the desktop view so it's much easier to navigate between available dates.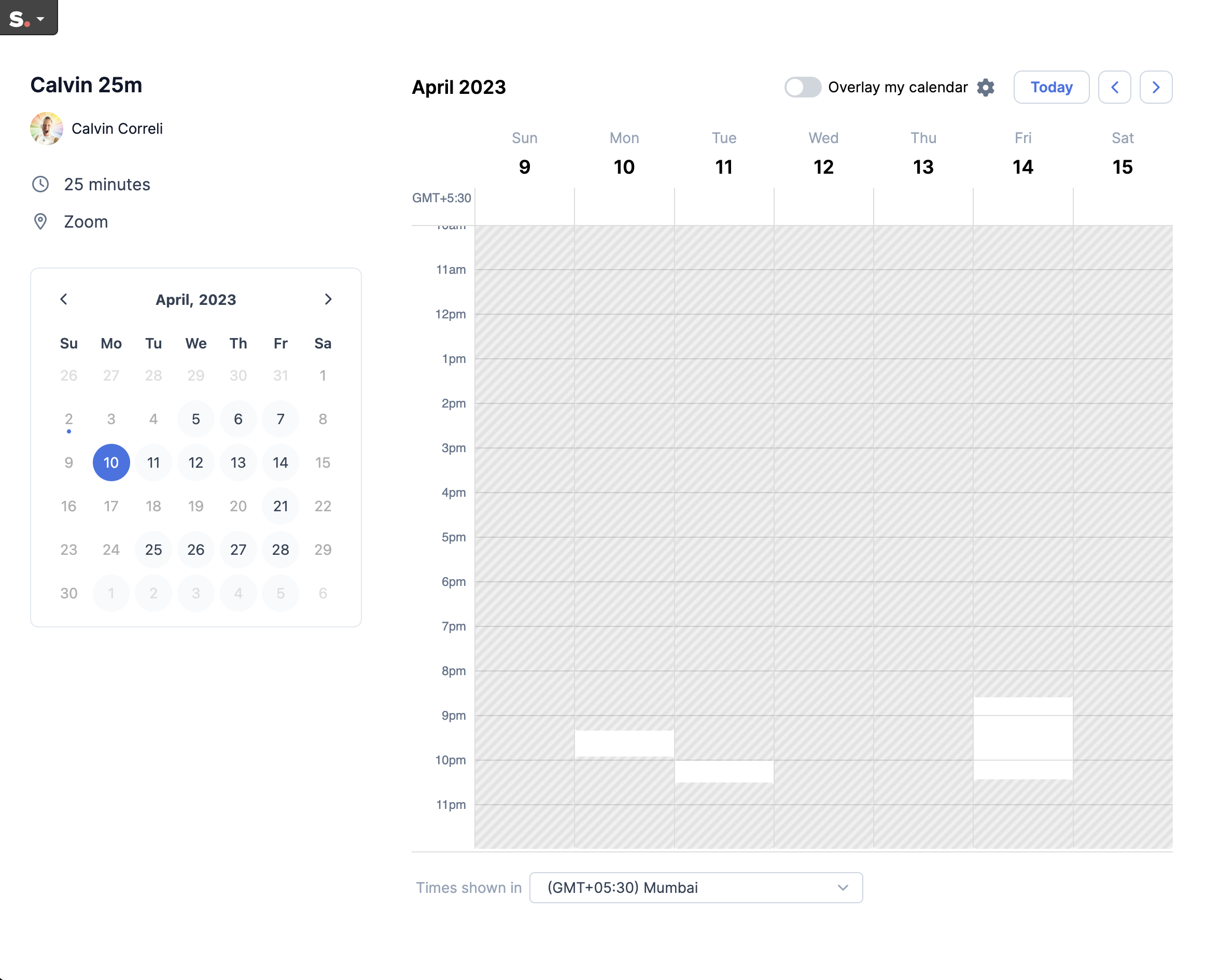 Let us know what you think. More improvements still coming!
Apr 1, 2023
All tables in your admin dashboard should now have a button/dropdown that allows you to choose a particular column to sort by as well as the sort direction (see screenshot). This makes it much simpler to sort the table by a column even when that column isn't in the current view.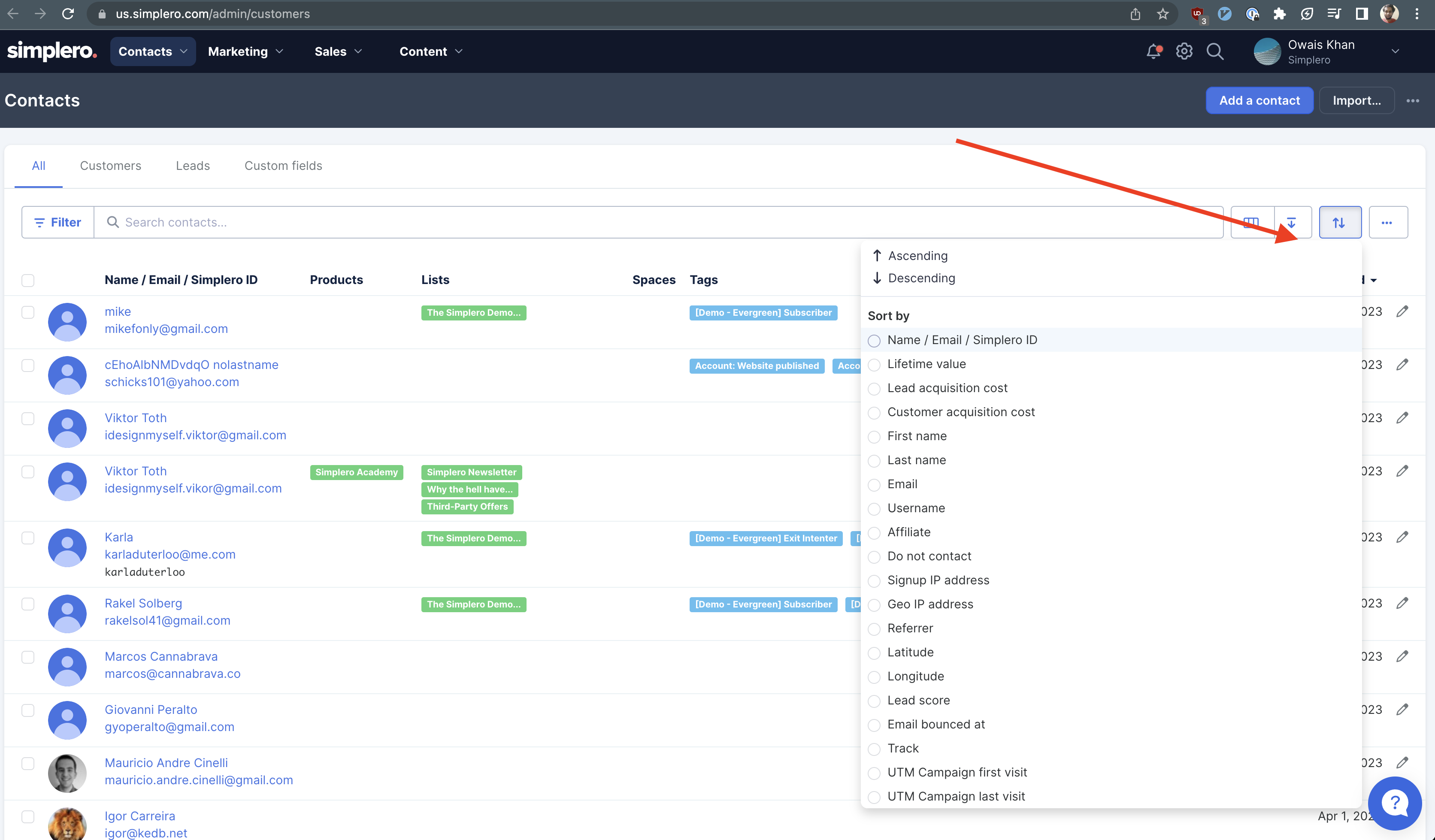 Apr 1, 2023
Added a section that lists all events scheduled by the contact on the contact's page in your admin dashboard. Makes it much simpler for you to see all the scheduled events belonging to a particular contact.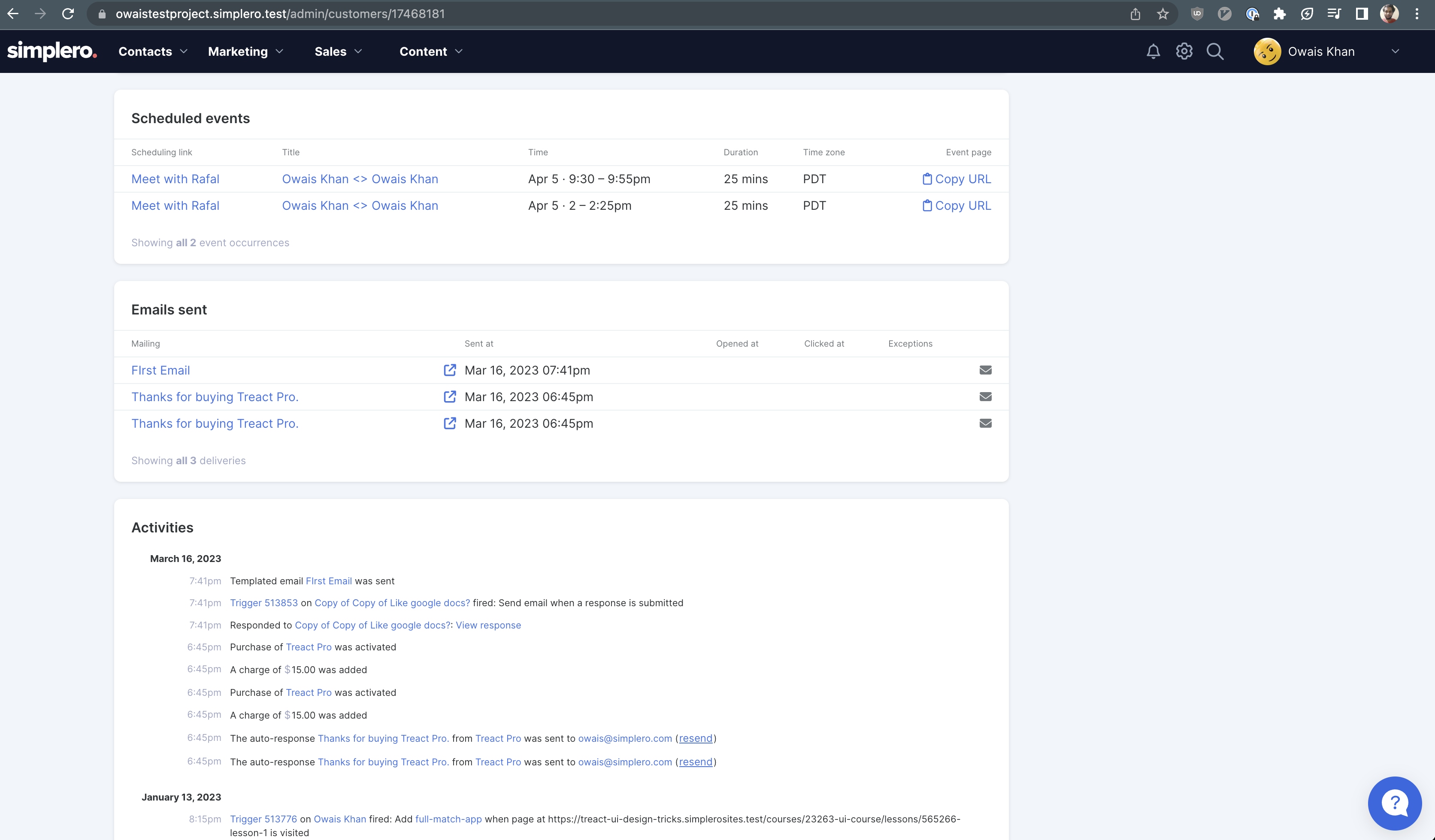 Apr 1, 2023
The scheduling link feature now allows your customers to reschedule! On the booking confirmation page, they'll see a link to "Reschedule" or "Cancel"
Mar 30, 2023
You can now set triggers to fire when a site redirect is clicked
Mar 23, 2023
Simplified & improved the event/scheduling link booking confirmation page.
Simpler, clear & prettier than before. Take a look at these screenshots: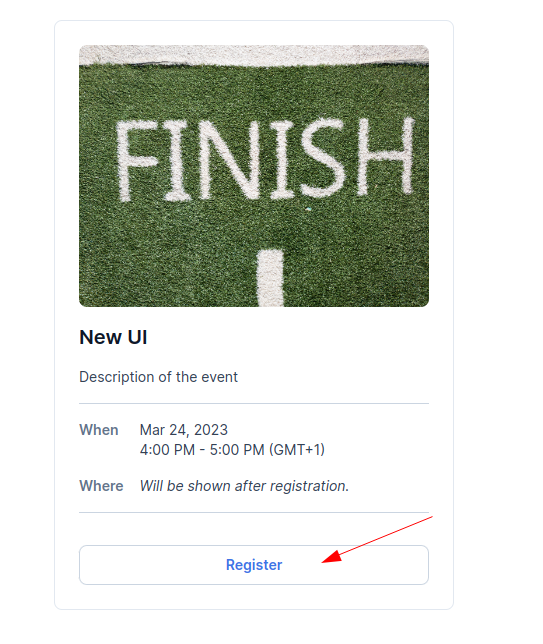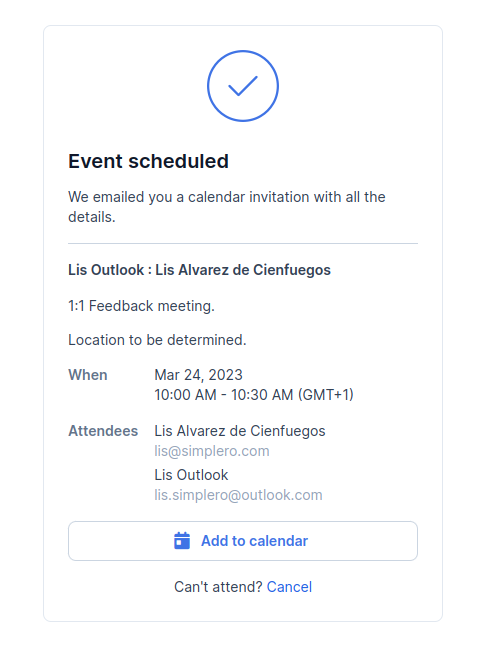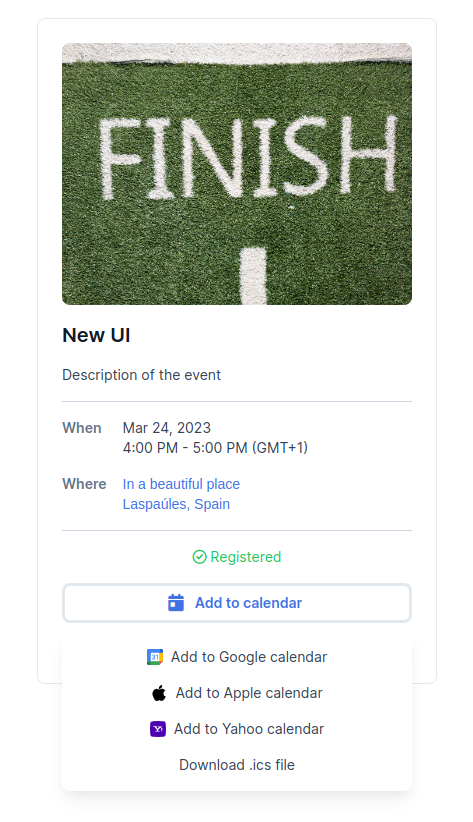 Mar 23, 2023
You can now redirect people to a custom URL after they book using your scheduling link. Go to the scheduling link page in your admin dashboard, and you'll find a switch on the left sidebar that says 'Redirect to a custom URL after booking', toogle that on and enter your URL.
Mar 23, 2023
Video and audio transcripts now support Norwegian.
Mar 21, 2023
The Scheduling Links feature just got simpler & more powerful!
Add a description to your scheduling links, which will be displayed on the booking page.

Customize the URL of your scheduling link. Go to the scheduling link page in your admin dashboard, and you'll find a pencil icon next to the URL that you can click to customize.

Specify internal name for a scheduling link as well as add labels to make organizing things a bit more simpler.

We've streamlined how cancelation works for scheduling link events to make the whole process more intuitive and simpler.

When someone schedules an event, they can now cancel it at any time by visiting the event page in simplero (soon we'll allow them to reschedule as well!).

You as an admin, can also cancel an event from the admin page of the event. Just go to the event page in your admin dashboard, and you'll find an option to cancel under the '...' menu.

We'll send you a e-mail when an event is canceled. And of course fire any triggers you had added to your scheduling link.

If the scheduler simply declines the invite from their Google calendar, we'll send you an e-mail letting you know they declined the invite and if you want to cancel the event.

Canceling an event will free you up to take bookings for that time slot again. And it will remove that event from Zoom and Google calendar if they existed.

We've also tweaked the style of the booking page to make it more pretty and easy to read.
This is just scratching the surface.
We've got a ton more improvements/features in-progress and they're coming real soon.
Stay tuned and let us know what you think about these improvements!
Mar 21, 2023
Added Contact name & email to affiliates table (thanks George for suggestion)
Mar 20, 2023
You can now customize the message sent to your affiliates by Paypal when you pay them. Access these settings on the configure tab for your affiliate program. You can leave these settings blank to let PayPal decide the message, which ends up being acceptable, if a bit generic.
Mar 17, 2023
The columns Broadcasts and Last Broadcast At are now sortable on Lists and Products tables
Mar 16, 2023
We'll now show the name of your product on the embedded checkout to make it simpler for your customers to know what they're buying.
Mar 16, 2023
Inserting scheduling links on your broadcasts/websites is now much simpler!
Just open the usual link picker, choose 'Scheduling links,' and then select the Scheduling link you want to insert.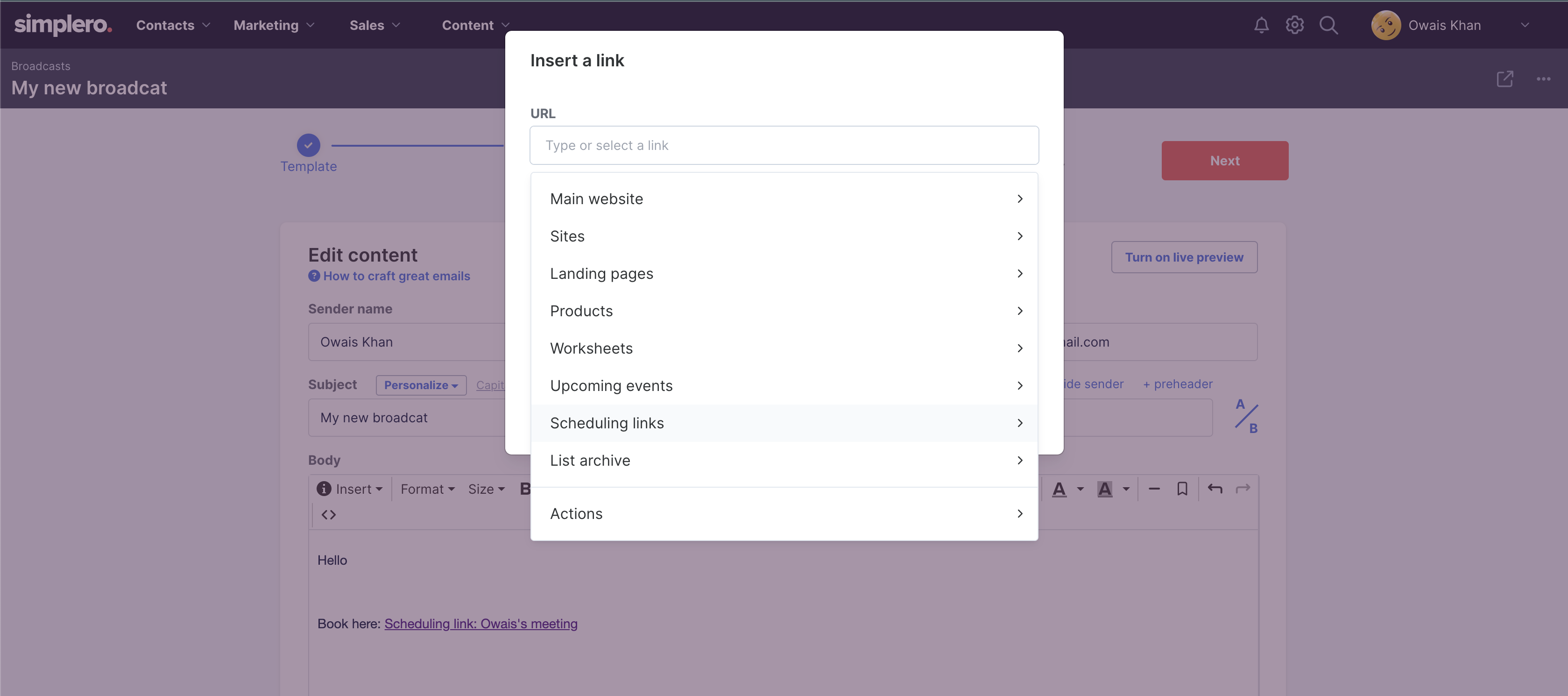 Mar 16, 2023
We'll now no longer show your e-mail address on the scheduling link's booking page.
That way you don't need to reveal your direct email to your clients, yet they can still schedule with you.
Mar 16, 2023
We've added a Manual payout method option to the affiliate programs configuration screen.
You can use this if you want to handle paying your affiliates yourself and not using PayPal.
This was allowed previously, but the new option makes it simpler to state what your intentions are.
Mar 16, 2023
Pipelines & Deals
We are thrilled to introduce our latest feature, Pipelines and Deals.
Deals help you track prospects through your sales process, as outlined in your Pipeline.
You define your Pipeline with the stages that prospects would go through—from new, scheduled, closed, follow-up, not qualified, etc.
Then you add Deals to the pipeline and move them through the Pipeline, either manually by simply dragging and dropping, or via automations.
Throughout, you can assign a Deal Owner, you can track the value of each Deal, you can add notes to keep everyone on the same page.
This is part of our effort to make Simplero the simplest, most powerful High Ticket CRM on the planet, making it simpler for you sell high ticket coaching programs and masterminds.
Find the new Deals section under the Sales tab in your Dashboard navigation bar.
Pipelines are defined under Settings > Account > Pipelines.
Mar 15, 2023
You can now easily add transcriptions for all lessons on a course.
Select the lessons in the Lessons view of your course then choose "Transcribe video/audio lessons…" from the dropdown.
This feature is available on Skyrocket only.
Mar 14, 2023
🗓️ New feature: Scheduling Links (Beta)
Now you can create Scheduling Links in Simplero! Learn more. This makes it way simpler to run an online business. No need to use Calendly or Acuity or any of those calendar programs.
This feature is still in beta, and we've got tons of improvements on their way. But it is 100% usable right now, so please go use it!
Mar 14, 2023
💥 Zoom integration is now available on the Starter plan!
You can use the Zoom integration to automatically create events on zoom when someone uses the new 'Scheduling link' feature in Simplero to schedule an event with you.
Mar 14, 2023
Improved country auto-detection of phone number fields on the new order form design to make it simpler for people checking out.
Mar 13, 2023
When using Stripe, we now support payments with Bancontact, an online Belgian payment method, to make payments simpler for your users.
Enable Bancontact in your Stripe account, then enable it in Simplero under Settings > Payment Processors > Stripe.
Mar 12, 2023
Simplified the Settings page for Landing Pages and embedded Forms
Mar 6, 2023
When following search result links to a specific point in a video or audio, we will now auto-play that video or audio if the browser allows us to.
If the browser doesn't allow it for videos, we will at least update the still image to reflect that point in the video.
This makes it simpler for your customers to get to the content they're looking for.
Mar 6, 2023
Automatic transcripts on course lessons (Skyrocket)
We just added a new feature to the course lesson videos.
Starting today, you can now access video transcripts with a click of a button.
This new feature allows you to read along with the video as it plays.
The transcript highlights the phrase being said on the video in real-time, making it easier to follow along and understand the content.
To access the transcript, simply click on the 'transcript' button located below the video player in any course lesson video with a transcript available. You can also toggle the transcript on and off during video playback.
In order to generate the transcript, go to Content > Media Library, check the videos in question, and choose "Transcribe".
We'll make that last bit even simpler in the coming days.
Mar 4, 2023
Now storing auto-generated video summaries as timestamped segments, making it simpler to link to those points in the video.
Mar 4, 2023
When writing a newsletter, you can now choose if it goes at the top of the queue, bottom of queue, or if you want to send it immediately. Always looking to make it simpler.
Mar 3, 2023
If you have enabled the iDEAL payment method with Stripe or the ACH payment method with EasyPayDirect and haven't provided a custom label, we will now use 'iDEAL' or 'ACH' on your order form instead of your payment processor's name.
This makes it simpler for you to keep your order form understandable to your customers.
Mar 2, 2023
Our Spanish translation is now substantially complete, so you can choose Spanish for your sites and landing pages y sus usuarios pueden verlos en español. Thanks to user vida-aurea on translation.io. This will make it much simpler for your Spanish speaking customers.
Mar 2, 2023
We've simplified our subtitle transcription to show easier-to-understand captions when there are multiple people speaking in a video or audio.
Mar 1, 2023
Webbooks: We've simplified how table-of-contents is generated for pages with lots of headings.
Geeky details:
Before, we used all h1,h2,h3,h4 headings on the page to generate table-of-contents, always!
Even if you had 100 headings in total! That'd mean you'd have 100s of item in your table-of-contents.
But now, we've made it so that we'll always include h1 and h2 headings, but only include h3 and h4 headings if total number of headings does not exceed 10.
That makes it simple for you: Use headings in the way most relevant to your content, and we'll automatically make a table of contents that's helpful, not overwhelming.
Feb 28, 2023
Using zoom events on Simplero just got a bit simpler! You can now edit more things on your zoom events right from Simplero. Specifically, you can now edit time & duration of a non-recurring zoom event (on top of title & description which was always possible). Additionally, you can now also edit registration type for all zoom events (i.e whether an event requires registration or not). And delete any zoom events! And in case you missed it last week, registering to zoom events now works right on the Simplero event page as well - i.e it's no longer necessary to redirect people to the Zoom's registration page.
Feb 27, 2023
Fixed that downloading/exporting video analytics table used to export data about all media files in your account, which was incorrect.
Feb 27, 2023
To make it simpler for you to know when your webhooks are failing, we will now send you notifications when it happens.
Feb 27, 2023
Fixed an issue where some subtitles in a video or audio would not show.
Feb 27, 2023
Fixed an issue where video and audio subtitles could show too much text at once.
Feb 27, 2023
On the Integrations screen of the admin interface, we now show the result of the last time we sent data to your webhooks.
Feb 25, 2023
Improved the Newsletter feature UI a bit to make it easier and funner to work with