6 Steps to Engage with Your Audience (and Increase Sales!) with an Interactive Quiz
Guest Author:  Jessica Pereira
Look up "How to grow your online business," and you'll find hundreds of articles about social media marketing, growing an email list, and search engine optimization. 
These strategies work wonders, but they're missing a key element—interactive quizzes. 
You might be thinking, How could a silly quiz grow my business?
What if I told you that a fair share of our clients have generated $50k+ in revenue from an online quiz? 
Yup! Entrepreneurs from across the board use quizzes to engage with their audience, grow their email list, and boost sales. 
This guide will show you why interactive quizzes work and give you six steps to create one yourself. 
Let's get to it. 
Why should you create an interactive quiz? 
It doesn't matter if you're a coach, freelancer, or e-commerce shop—an interactive quiz can grow your email list, engage your audience, and build trust. 
Let's dive into each of these, shall we? 
1. An interactive quiz can grow your email list 
Quizzes are a lead generation tool—it's no surprise that they can put your email list on blast. 
But how? Let's take a look at Ellany Lea's quiz: "What type of overachiever are you?"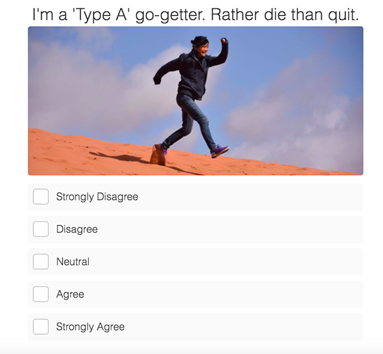 Ellany guides users through a round of interesting questions. But here is where things get interesting. If quiz-takers want to see their quiz results, they have to opt-in to Ellany's email list. 
To add to the fun, Ellany offers a free guide along with the quiz results. Who wouldn't sign up? 
A simple opt-in form and freebie can lead to incredible results. Jessie Golden, a mind-body coach, grows her email list by 100+ subscribers each week with her quiz!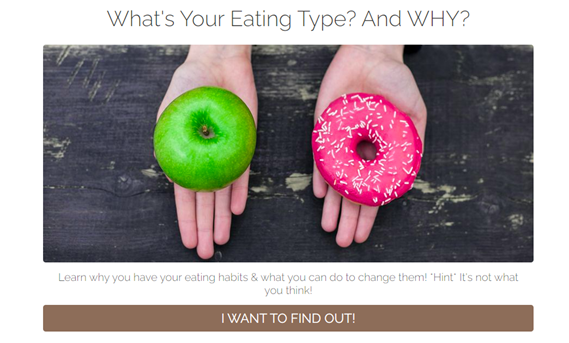 Identifying someone's "eating type" for free provides insight from the get-go. It's no wonder why users are flocking to Jessie's newsletter. 
Key takeaway: Pack your quiz with invaluable tips and resources. The more you educate, the more users are likely to subscribe. 
2. A quiz engages customers 
Sure, blog posts, infographics, and guides are great, but they're missing a vital piece of customer engagement—interaction.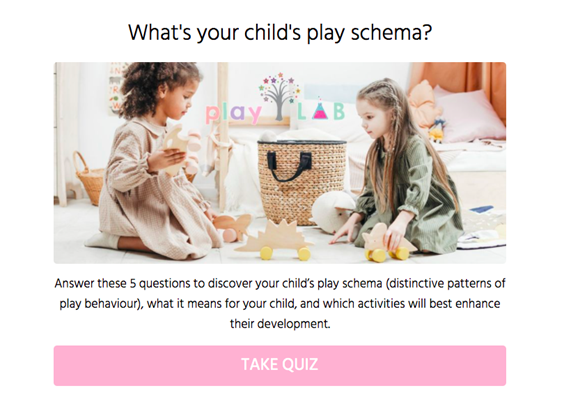 Anna Ranson's "What's your child's play schema?" quiz helps parents identify their children's play behavior. 
Sure, Anna could've packed this info into a blog post—but a quiz allows parents to explore their children's behavior themselves.
So how did her quiz do, engagement-wise? 
Her testimonials speak for themselves. 

Anna isn't the only one to receive positive feedback. 
When Allison Burns posted a "What's your design spirit?" quiz, her DMs blew up.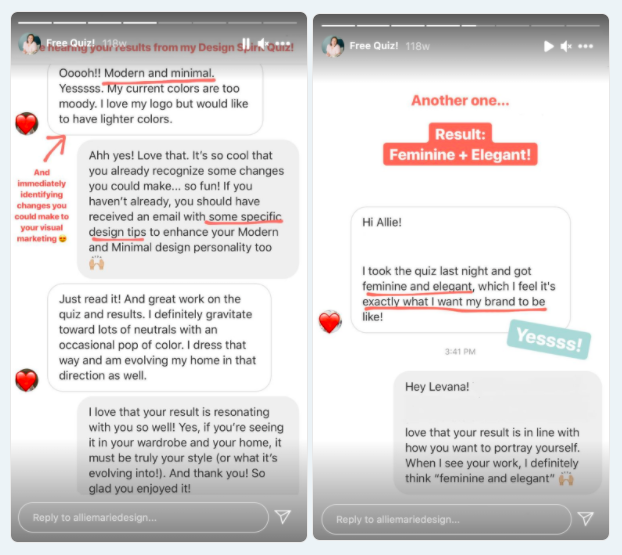 What an opportunity. Allison can now chat with her audience, one on one. 
Key takeaway: Engagement is the foundation of long-lasting customer relationships. Plus, it's an opportunity to welcome feedback and comments. Start the conversation and ask for testimonials. Or, share your quiz on social media. 
3. Build trust with your customers 
What is the foundation of all relationships? 
You got it! Trust. 
Building trust is key to long-term sales, social proof, and satisfied customers. 
So how do you build trust with an interactive quiz? 
One way is with a jam-packed results page. 
Let's take a look at Devon Venetti's quiz results from her What's your Wellness Personality? quiz. Devon uses holistic healing and acupuncture to heal her clients and promote well-being.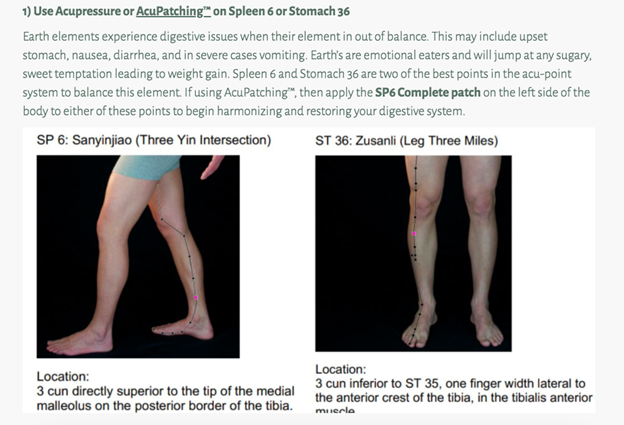 It's no secret that she genuinely wants to help her audience—her results are FULL of value. 

Even better, Devon adds extra resources and ways to contact her. 
If you think this is impressive, then you'll love Kaye Putnam's "What's your innate brand advantage?" quiz.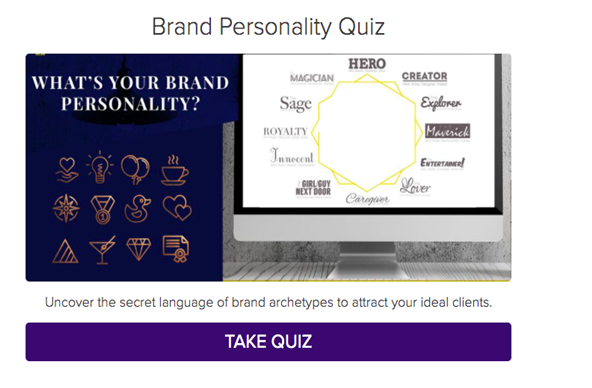 One of Kaye's not-so-secret strategies for building trust is a customized results page for each brand archetype.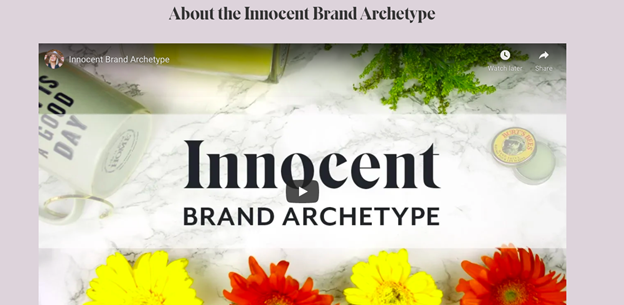 Fun fact: Kaye's quiz has generated $100k in sales! 
Key takeaway: Take time to create customized results for your audience. Make them feel seen with free resources and customized tips. 
You must be itching to create an interactive quiz. Good news! I'm about to teach you how to create a quiz from scratch. 
Let's get started! 
Three Questions to Ask Before Creating a Quiz 
It's easy to create and publish a quiz in less than a day, but you probably won't get the "wow" worthy results you want. Achieve your highest quiz goals by building a strategy. Below are three questions to help you start planning. 
What's your marketing funnel like? 
Analyze how well your marketing funnel is converting and whether you need a refresh. Then, decide whether your quiz belongs in the top, middle, or bottom of your funnel. Most quizzes work best in the lead generation stage, but it depends on the business. 
Do you have an end goal? 
A quiz won't achieve anything without an overarching goal. What do you want to achieve? Maybe it's more online course sales, or perhaps it's a booked schedule of consultation calls. 
What's your budget? 
You can essentially create a quiz for free, but you'll still want to consider how much time you have and whether you need to outsource. 
It takes work and money up front, but over time you can automate your quiz funnel and generate leads on autopilot. 
How to Create a Quiz in 6 Steps 
You're now ready to create your quiz. For this tutorial, I'm using Interact, a lead generation quiz software. 
Using Interact, you can design your quiz and get access to: 
800+ ready-to-publish quiz templates 
Email marketing integration (including Simplero!) 
Quiz analytics 
The following six steps will help you create and promote an interactive quiz. Let's go! 
1. Think of a quiz topic 
Before we talk about quiz topics, you'll have to choose a quiz type. 
Scored quiz—Assigns a point value for each question and determines how much someone knows about your quiz topic.
Example: Do you know the top entrepreneurs of the 21st century? 
Assessment—Analyzes quiz-takers' knowledge about your topic. 
Example: Are you ready to become an entrepreneur? 
Personality—Separates quiz-takers into "types." 
Example: What type of entrepreneur are you? 
We're going to base this tutorial on a personality quiz. We love learning new things about ourselves and how we can improve—and personality quizzes help us do just that. 
Now, on to your quiz topic. Your quiz topic should represent your audience and biz goals. 
Zone in on your users and identify their pain points. How can you solve one of those pain points via a quiz? 
Let's say you're a relationship coach. The topic, "What's holding you back from your dream relationship?" targets your audience's relationship challenges. 
Need some inspiration? Check out the following quiz topics. 
Business coach → What's your entrepreneur archetype? 
Personal development coach → What's holding you back with (blank)? 
Brand strategist → What's your awe-worthy brand type? 
Health/Wellness coach → What's your customized workout routine? 
Skincare biz → What's your go-to skincare routine? 
As for your biz goals, tailor your quiz around your end goal. For example, Kaye Putnam's "What's your innate brand advantage?" quiz focuses on her goal of promoting her brand strategy courses. 
First step, down! Now let's talk about quiz results. 
2. Brainstorm 3 to 5 quiz results 
Think of your quiz results as archetypes. Archetypes symbolize someone's strengths, weaknesses, desires, and fears. Describe these traits, and your audience will connect with their results on a deep level. 
So, how do you create archetypes? The following questions should help you out. 
What are their best traits? 
What are their worst traits? 
What is their dream? 
What is their fear? 
What advice would help them succeed? 
What tools can they use to reach their goals? 
Need to see these questions in action? 
Let's use a "What type of business owner are you?" quiz as an example. Three results you could create with this quiz are: 
The Creative—This archetype goes with the flow. They're calm, collected, and introverted. They value deep connections but stay away from confrontation. The Creative needs to learn how to stand their ground but are scared to get started. They could use a self-paced online course to help them grow. 
The CEO—The CEO is all about goals. They need something to work toward and thrive in high-stress environments. Sometimes, they cross the line from confrontational to aggressive. They might have a hard time managing their work/life balance. The CEO wants to reach the highest position on the corporate ladder but fear others will get in their way. They could use 1:1 coaching to work past their roadblocks. 
The Justice Warrior—Justice warriors fight for other people's causes. They love fiercely and aren't afraid to express their opinions. Sometimes, justice warriors come off as judgemental. They feel like it's their job to save the world. Justice warriors could use a supportive group to voice their beliefs and connect with other like-minded people. 
Use audience research, interviews, and feedback to paint a picture of real-life people, like you and me. 
3. Write 5 to 7 questions 
The best questions tune in to your audience and get them thinking, Wow! They really get me.
On the flip side, you'll understand your audience better just by reading their answers (you can do this with Interact's quiz analytics). 
So what does a good question look like, anyway? 
Let's take a look at one of Anna's questions.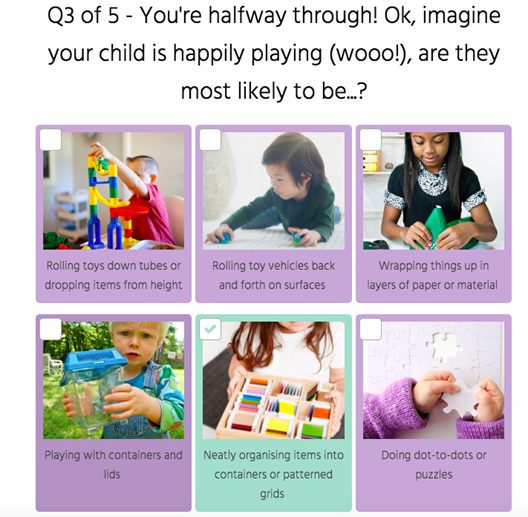 Anna uses simple vocab and relevant images to help quiz-takers understand each question. She also presents six realistic scenarios that all parents can relate to. 
On another note, good quiz questions are FUN. Keep users on their toes with interesting scenarios and a conversational tone. 
Going back to the "What type of business owner are you?" quiz, some questions you could ask are: 
You just landed a job—hooray! How are you negotiating your rates? 
The thought of running your own business makes you… 
When you were a kid, you ALWAYS wanted to be a…. 
The better questions you ask, the more likely users will finish your quiz. 
4. Beautify your quiz 
You're halfway through! Let's get to the fun stuff—designing your quiz. 
Your quiz design is completely up to you. But you might find these three insider tips handy. 
First, create an appealing cover page.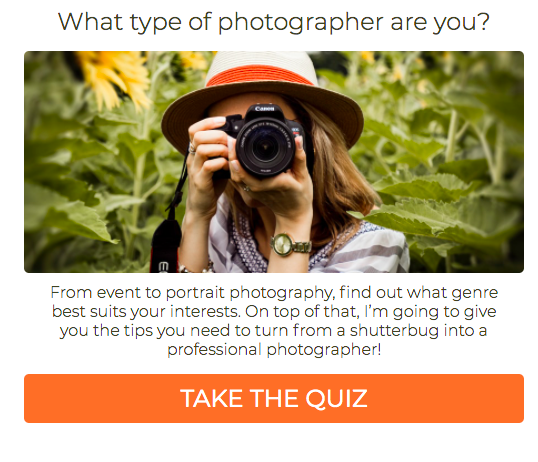 Just like the cover of a book, your quiz cover page is the first thing people judge. Tell users why your quiz rocks and what they'll get out of it. 
Something else you can do is add images. Images help quiz-takers understand questions and answers more clearly.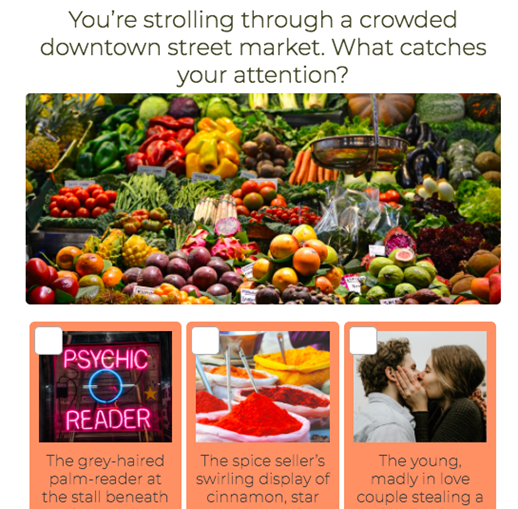 Use Interact's image search engine or upload your own designs and GIFs. 
Last but not least, represent your brand with the appropriate colors, fonts, and logo. You can implement your brand using Interact's design menu. 
Voila. Your quiz is almost ready to go. 
5. Set up an email opt-in form 
Sure, your quiz is supposed to be fun, but it also has a purpose—guiding users to your product or service. 
This is where your email opt-in form comes into play. An opt-in asks users to enter their email to see their quiz results. From there, guide users through your funnel and boost your email list. 
Ellany Lea uses a form to send users their quiz results and extra resources.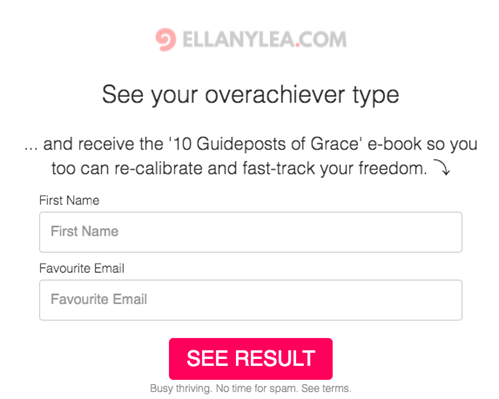 Do you want to know the best part? 
You can integrate your Interact email opt-in with Simplero.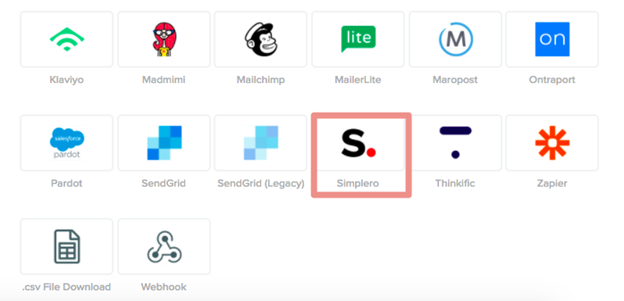 And that brings us to your email sequence. Here's what a standard quiz email sequence looks like: 
First email: Send quiz-takers their quiz results and an extra resource (guide, video, blog post, podcast, etc.). 
Second email: Introduce yourself! Tell readers more about you, your biz, and why you do what you do (this is a great way to introduce your product/service). You can also attach another helpful resource about their personality type. 
Third email: Nudge users toward making a purchase. You could send over a customer success story or testimonials. 
Fourth email: It's go time. Promote your product or service and get those sales going. 
Feel free to change this formula to fit your audience and product.  
6. Promote your quiz 
Creating your quiz is only half the battle. You also have to share it with your followers, subscribers, and web visitors. 
One way to go about this is with a quiz landing page.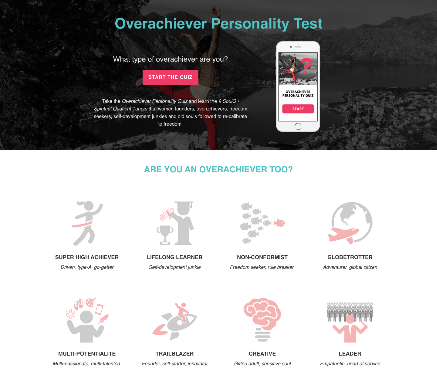 A quiz landing page is great for two reasons: One, it's easy to share your landing page on multiple channels. Two, it's a chance to share more details about your quiz, like: 
Who should take the quiz 
A sneak peek of your quiz results 
What users will learn 
What they get in return 
Raving testimonials 
Need an example of a quiz landing page? Head here to see the rest of Ellany Lea's landing page. 
Social media is another way to promote your quiz. 

Allie Marie added a link to her Instagram bio, but you don't have to stop there. You can also create a post.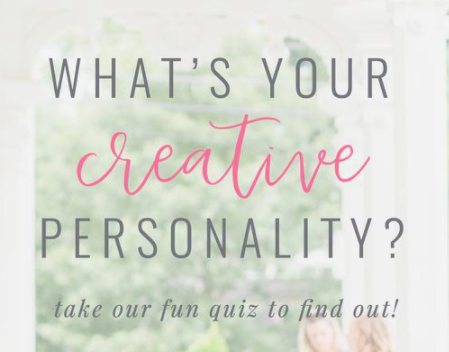 And don't forget to add your quiz to your website!

Add "Quiz" to your menu bar and redirect users to your landing page or the quiz itself.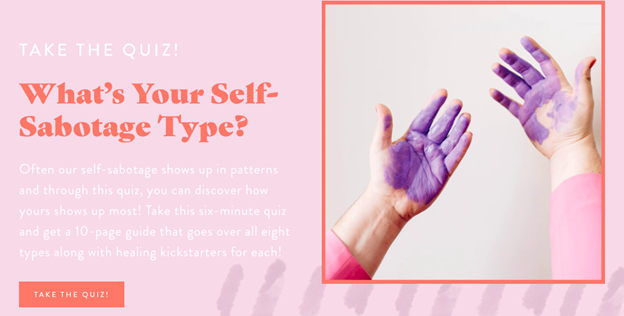 A key strategy for promoting your quiz is making it readily available. This means posting a link to your main channels and consistently sharing your quiz via social media posts or even Facebook ads. 
We're just about done with your quiz tutorial. Wasn't that easy? 
Are you ready to create an interactive quiz? 
If you made it to the end, then congrats! You're officially a quiz-making pro. 
An interactive quiz will help you deepen customer relationships, gather audience research, and take another step toward achieving your vision-board-worthy goals. 
Nothing is stopping you now. 

Interested in working with Concierge for guidance on setting up or integrating your quiz and learning about an Interact discount bonus? Watch a short video on the options and how to integrate an Interact Quiz with your Simplero account. and/or book a free 30-minute consultation with our quiz strategist.  
Guest Author:  Jessica Pereira