New Feature: Countdown timer and Expiring Landing Pages
Want to create a sense of urgency when selling your Simplero products? Or maybe you just don't want your simplero sales page available for viewing open endedly but don't want to delete the page from your account. Simplero has heard your desire and has answered the call with 2 new features! Landing page expiration and a countdown timer.
Now through the advanced settings when creating or editing a landing page you have the option to set a date for your page to expire, or to immediately expire a currently available landing page. With that comes the option to redirect your viewers. Sale for your product over? Then redirect the to an opt-in for an interest list when sales open again.
In the same advanced settings you will see the option to add a countdown timer to your page that will countdown to the time your page is set to expire. This is a great way to let possible buyers know how long they have to decide, reminding them that sales aren't open forever and they should act now.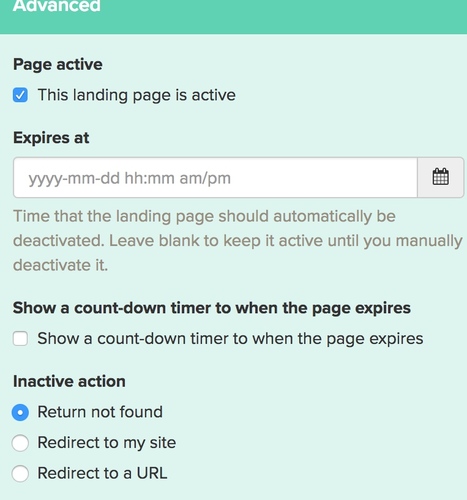 Check out our guide for step by step walk through.