Meet Nicole and Katie Myofascial Release therapists
Tell me a little about your business…
Look inside. Love your Life is a business my partner and I created as a way to spread our knowledge of bodywork and the mind body connection to other people through the internet. We have created Self Care Classes online with Simplero teaching people what Myofascial Release is, What Self Care and Self Love is, How belief systems are connected to your body and how it operates, and how to release your own fascia to free yourself from pain, mental and physical!
What brought you to Simplero?
Kathryn Hocking's E-Course Launch Formula
How have you integrated Simplero into your business?
We use Simplero as the base of our online course, as well as for our auto email subscriptions, landing pages, ets.
How has Simplero benefited your Business?
Simplero is a really nice format. I feel like it has helped to have a seamless integration of email, landing pages, merchant processing, course format all in one place, it made the technical side of creating an online business a lot easier!
What's something you've learned in business you'd wish someone had told you when you were starting out?
Business is a marathon, not a race. It is strategic and requires a lot of work. I also never knew how very important my "why" was, but that's what kept me going those late nights and frustrating and scary days when you thought for sure this might be the day you just want to give up!
What's a fun fact about you that someone would never guess?
My business partner and I are both obsessed with the TV show Outlander.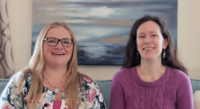 Hi! Nice to meet you. We are two Myofascial Release therapists located outside of Boston, MA. Our own back pain and jaw pain is what brought us here. A few years back Nicole couldn't even bend over and Katie couldn't even bite into an apple (very sad for a New Englander). Then something ahhhhmazing happened. Nicole took a Myofascial Release seminar with John F. Barnes. Everything clicked. Finally, she could see the light at the end of the tunnel. She was hooked. Two years later she introduced Katie to Myofascial Release and a great friendship was forged! We've really learned so much along the way as we've healed our own pain with Myofascial Release. AND it has been amazing to have a friend to share it with. That's why we created this course. To share with you what we know works and create a community of people who are supportive and can cheer each other on. Yay!