How To Get The Marketing Automation You Need Without The Headache
Hi. We're Simplero. Online business owners' best kept secret.
Simplero is the all-in-one platform you were looking for when you went with Infusionsoft, you just didn't know about us yet. We're glad you're here.
Look, we know you have choices in how you run your business. What clients you work with, how you plan your days, and what software you choose to help you run it.
We could sit here and tell you all of the reasons that you should switch from Infusionsoft to Simplero (and there is a little side-by-side comparison chart below if you want to check it out).

But we thought it would make a lot more sense if we let some of our happy customers who have already made that switch tell you themselves.
This is Sarah.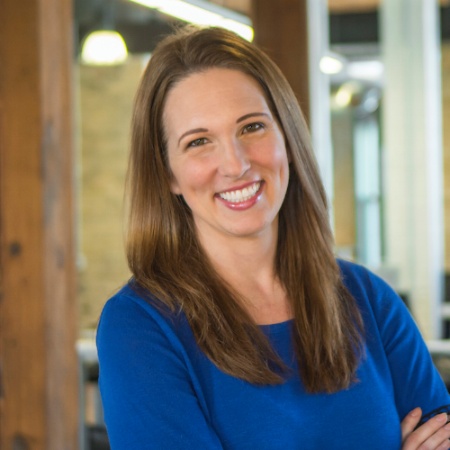 There are three simple reasons I ended up leaving Infusionsoft: It was too confusing, too expensive, and had too many features I didn't need and didn't use.
What really surprised me was that my local Infusionsoft Consultant agreed with me. He said that I'm not the right target audience for it. It might be great for mid-sized companies with a sales team, a marketing department, even multiple locations or a more complex structure. But that's not my business.
The reality is that Infusionsoft isn't the right fit for solopreneurs. If you are using it as a fancy e-mail marketing system, you are on the wrong platform, and you are wasting a lot of money to be there.
Well, we don't want you wasting your money.
In fact, we did a survey of a whole bunch of online business owners and plenty of people are spending close to $500 a month for just software when you use Infusionsoft. Yikes.
Simplero's most popular plan cuts that bill in half. AND you won't need an expensive consultant each month to run it all.
Here's Sarah again:
In addition to offering the features I want, Simplero is more affordable. It has no up-front set-up costs and no long term contract. Just a reasonable monthly fee based on your needs.
I also love the support and customer service. Simplero's founder, Calvin, is still personally involved in ongoing developments. There are new features being added on a regular basis, and he communicates with users regularly to keep everyone up to date. There's an official Facebook group for users as well, and it's a great community.


And Sarah isn't alone.
She's just one of our happy customers. You can meet more of them here.
Okay so you want that comparison chart, right?
Here ya go: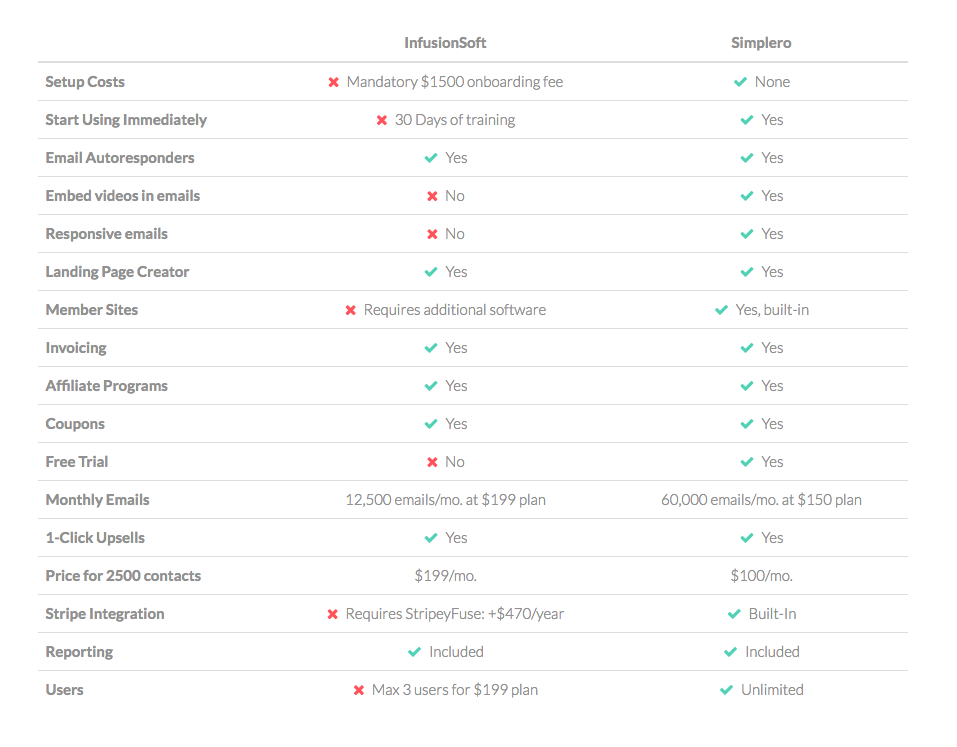 Oh yeah. We also offer a concierge migration. Of course, we can only do so many of those at a time so when you sign up for your account, let us know if you're interested.
Get started with a 30-day free trial and finally find freedom from Infusionsoft.
Welcome to Simplero. We're rooting for you and we're here to help any time.