Tap into Your Creativity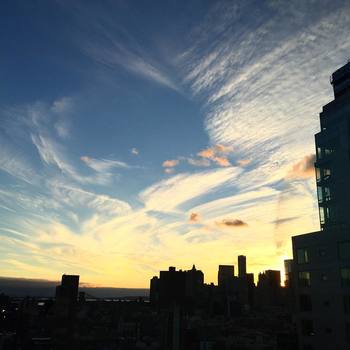 I'm so excited about the process of expressing our creativity, We can do it on many levels, of course. Ultimately, our whole lives are creative expressions. But a lot of us get stuck along the way.
I was talking to someone in my building the other day. Chinese American, she wanted to do work that made money, so she became a lawyer, and now she hates going to work every day, and she's yearning to do something else. I told her about me picking up music again, and Phoebe told her about getting into dancing. Our neighbor used to play the harp.
I have noticed for me, that the more I dig into my creative expression, the more in flows in all areas of my life.
I'm very lucky, in that most of what I do is a form of creative expression. Whether I create software, write emails, books, do coaching, or make music, it's all a form of creative expression. And that's no accident—my Wealth Dynamics profile is that of Creator.
But what I've noticed is that the deeper I dive into my creative expression, the more it flows.
Even if you can only do 10 minutes a day at this point, it's vital that you do tap into that creative force.
When creativity goes unexpressed, it manifests in the form of arguments, ulcers, and drama. Don't let that happen to you.
Will I See You at SimpleroConf?
We're thinking of doing an intimate, awesome, super fun and super personal Simplero conference here in New York in May.
Would you be interested in joining us?
What would be most compelling for you about a Simplero conference?
I'd love to know. I think it could be something really special and exciting. Conscious business, how-tos, breakout sessions, some exciting keynotes, lots of community and connection, and a high speaker-to-attendee ration. To me, the community is one of the most exciting things about Simplero, and I'd love to meet as many of you in person as I can.
New Features in Simplero
Yesterday was just another day at Simplero HQ. Twentyone commits, meaning small (or big) chunks of changes to the code, all in a day's work. I don't know how many deployments, but at least a couple handfuls. We're always tinkering with things, improving things.
Today, it was adding media files from S3, and improving our login pages in general, and on mobile specifically. Yesterday, it was email rendering on mobile, an issue with updating your payment card for your Simplero account, and tightening up when we record an email as having been delivered or bounced.
Over the weekend, it was optimizing our automation processing, because a customer (no error on his part) decided to add 20k+ contacts to an automation all at the same time. We were so not geared for that. I designed automations to run in a stream, where each contact is at their own step in the process. When over 20,000 of them are at the same step, that created a bit of a bottleneck. So that's how I spent my weekend. I really love these types of challenges, though. It challenges me to be creative about possible solutions. I'm always looking for that sweet spot of robust and simple and clear.
Random Links from around the Interwebs
I love the lengths these people are willing to go to to soundproof a New York apartment.
I love Maple. Great food service in NYC. Super tasty, super fresh, super healthy (mostly), and delivered fresh to your door so cheap it's unbelievable. One of the things I love about living in NY is that we get access to awesome innovation like this.
All of the world's money and markets in one visualization. Stunning.
With love,
–Calvin
PS. I think it's almost Christmas? Merry Christmas, or whatever you choose to cerebrate. That last week of the year between Christmas and New Year's is one of my favorite times of the year, walls usually filled with post-it easel pads, planning and dreaming for the year ahead. Enjoy it to the max!