Restore the Flow
I've long been fascinated with the interplay of mind and body.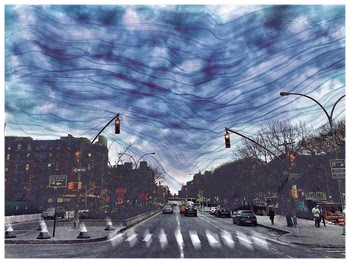 We all know that the mind impacts the body. Something as simple as a frightened thought entering our mind, and our heart starts racing. Even more than that, I've always found it fascinating how every single double blind medical trial is proving that if you believe you're getting treatment, a large percentage of us will actually get physically better. What's cooler than that? I wish we'd have way more doctors study how to apply the placebo effect for healing.
But the other way works, too. I still remember the first time I tried a body therapy session. At first the therapist worked on the front side of my body, and then he left me for maybe about 15 minutes to steep on my own. It was the wildest thing ever. First I was crying. Then I was laughing. Then I cried. And then I laughed. And it just continued like this the entire time. Just a minute before he returned, it slowly subsided.
There was no content. I wasn't crying about anything, or laughing about anything. It was just crying. And laughing. And it felt amazing. I felt alive like I can't remember ever feeling before. It was the best.
A body therapy session is very different from a massage. It's about emotional healing and release through the body. It's about restoring the natural flow of energy in the body, so the body can do its own healing. It goes so much deeper than a massage ever could.
Since my first session back in 2007, I've been a firm believer in body therapy to release the flow and energy in the body, and I get regular sessions. It's been one of the best things I've done for myself.
Later on, I met Nomi whom I'd end up marrying, and it turned out that she, too, was a body therapist. Before we started dating, I had a few sessions with her, and she's the most incredible body therapist I ever worked with.  
Today she lives with me in New York, and she offers these sessions, which she calls simply Body Sessions, to clients here in New York. 
If this sounds like something you could benefit from, and you happen to be near here, get in touch with her and book a session today.
If you're not in New York, but you know someone who is, let them know about it.
It's a true life-saver and life-restorer.
Simplero Working for You
There are so many ways to customize your products in Simplero! We have gathered a few selling strategies to help make your ideas run smoothly.
The first guide we want to spotlight today on is "Creating a Multi Level Access Product". Do you want to create multiple products using parts of the same space?  Or are you planning on selling a basic and premium access package? How do you make that work with products and spaces. We have a guide to walk you step by step on how you can accomplish this
here
.
We Want to Feature You!
We are looking for more people to be Featured Simplerista in our weekly newsletter! Interested in being highlighted? We would love for you to hop over and fill out this worksheet!
We also are looking for beautiful Spaces & Landing Pages to be features on help.simplero.com to show new users what can be done. Drop Sherrie a note with your Simplero account name + a link to either or both at Sherrie@simplero.com
New Features in Simplero
We've added the option to adjust the size of the header on your site, which means that you can now show your logo much bigger if you want to. You can change the size of the header by going to Site > Theme and clicking Customize theme. Under the Header section you can then choose the size you want.
Random Links from around the Interwebs
50 years later, Heinz approves Don Draper's 'Pass the Heinz' ads and is actually running them. This is a great story!
US health care could be more like Denmark's. Wouldn't it be great if government was actually sane? :)
Love to y'all!
–Calvin