Nothing to do
Here's a Wednesday morning or afternoon truth for you: There really is nothin
g for you to do.
Everything you dream of, everything you wish to create, or to experience, is right there for your taking.
I'm not saying sit on the couch all day. I'm just saying, do what you feel called to do in the moment. Act from a place of inspiration. Do what you feel the impulse and the energy to do in the moment. And don't worry about anything else. Don't worry about all of the things you have to do or get done at some point in the future.
I've seen it over and over again. The moment I sink into an even deeper state of agreeing with the present moment, the thing I was struggling with sorts itself out. Whatever old hurt, stuck emotion, or false belief was blocking it bubbles to the surface and is carried by the wind out to sea, never to return.
Every solution to every single problem I've struggled with has been easy. Effortless even. Joyful.
It's all about getting ourselves untangled enough and present enough for that to happen. That's the real work.
Forget about achieving, solving, accomplishing, getting things done.
Focus on being fully here, allowing everything, resisting nothing.
Your job is simply to observe and enjoy the ride.
What will I do next? Where will I move when my lease is up? Will I hike to Corniglia today? Will I code a new feature or write a book or a song?
I don't know. I'm as curious as anyone.
It's an exciting place to be.
Try it! :)
–Calvin
Calvin's Random Links
from

around the Interwebs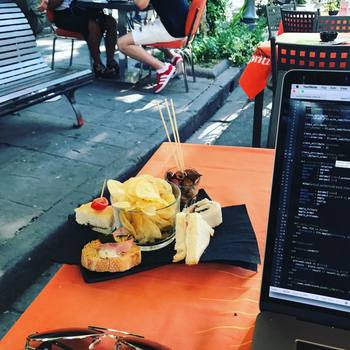 Lenin is back on a rooftop near my place in New York. Looking forward to seeing him when I get back. He's been missed :)
Decades. True. Weird. Funny.
I'm back in Vernazza, in the Cinque Terre in Italy. Last time I was here was about ten years ago, and I didn't realize that the place was ravaged by a massive flood back in 2011. Here's a few videos. Insane!
Did You Know You Could Do This?

We often get questions about how to start people mid automation.  You might be moving your list and you have users still in the middle of a flow on another site? Or you just want someone to start from a specific spot in your automation for a special program you are running.  Lucky for you, we have a few work arounds that should be useful for any situation.
If no one else is going to join your automation in the next 5-10 minutes, there is a quick manual solution for adding one or a few people on the fly. Add an action step to  "skip to step" (and choose the step you want them to start at), and move this step to the top of the automation. Quickly go to the participant screen and manually start them in an automation.   You will need to delete this "Skip to" stop directly after converting the users.
If you need a more permanent solution to add people into a slightly shorter automation,  you can also duplicate the automation. Remove any steps in the new copy that you don't want them to experience.   You can manually add people to this new automation if you need to. But you can also use the newly edited automation if you have a revised product that would use this flow. You can add a trigger to a price to start the new automation as well.
You can duplicate the original automation as many times as you need to, deleting or re-arranging steps as desired for your needs.
Read more about Starting Mid Automation in our Guide!
What are you interested in learning more about? We would love to hear from you! Email Deanna at deanna@simplero.com with your questions!
New Features in Simplero
This week we have some pretty big news for those of you who rely heavily on Zapier for moving data from other services into Simplero. Until now, when creating or updating a contact in Simplero through Zapier you've been limited to only the contact's email address, name and an internal note. Now you can also add or update data in all your custom fields such as your custom text inputs, drop downs and everything else you might desire:
The ability to insert data into custom fields is available in all Zapier integrations – all you have to do is edit your existing "Create or Update Contact" actions or create a new one, and you'll see the available options for your account. If not, hit the handy "Refresh Fields" button at the bottom of the "Set Up Template" step and you should be all set. We really look forward to seeing what creative solutions you all build with this new, more powerful integration!
Make it a great week!
—The Simplero Team
Save