Drop the To-Do List: Introducing the Today List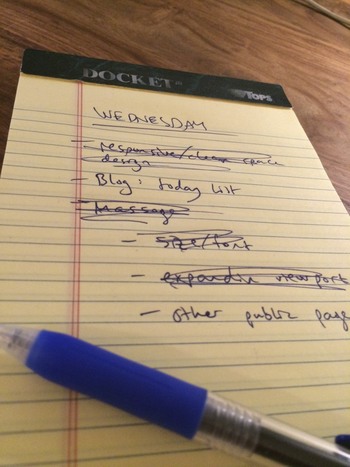 We all have to-do lists. And there's always way more on it than we can possibly do. Often it ends up being the list of things we never actually get done. It becomes a nagging reminder of all that we should've done but didn't.
Another problem is that life offers us the opportunity to rediscover who we are on a daily basis. Each morning when you wake up, you are literally not the same person that you were when you went to bed. Every moment is new. Life invites you to ask yourself who you are today, who you want to be today. The problem with to-do lists is that they were written by the person you were yesterday. Or before. They keep you locked into your identity, and prevents you from discovering yourself anew.
Exit the To-Do list.
Enter the Today List.
The Today List is a list that you write each morning of the most important things you want to get done that day. Or at least work on that day. I prefer to keep mine on paper, on a yellow 5x8 inch pad.
There's something wonderful about pen and paper, and about having to physically write out each item from yesterday that's still relevant today. Forces you to think about it. It also automatically limits you to a reasonable number of items. And it gives you that wonderful visceral feeling of striking things out, and of crumbling up the list when you're done with it.
Give it a try. I've been using this method for years, and I love it very much.
What's your favorite productivity tip?