News from Simplero: The Future of Simplero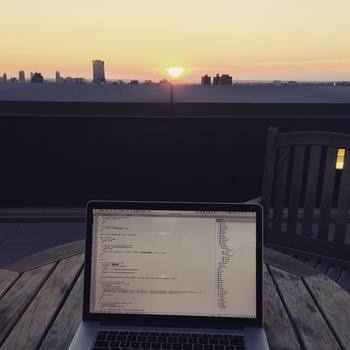 Someone mentioned to me the other day that there were speculations about my ongoing commitment to Simplero now that I'm relaunching my coaching business.
So just to dispel any notions of that: My commitment to Simplero is as strong as ever.
In fact, Simplero wouldn't exist if it weren't for me starting my own coaching and online training business back in 2008. I was looking for software to run that business for me and didn't like what I found, so I wrote my own. Simplero came to be from me scratching my own itch, as they say.
And a bunch of the many many recent feature additions have come about because they were inspired by the things I was doing for my coaching business. That's what I showed you all yesterday on the webinar.
I was joking with my personal trainer a few weeks ago. He said "what if Facebook came and offered you a billion for Simplero, would you take it?". And my first response was: If I was paid enough that I could give each of my customers a million dollars, I might take it.
But the truth is, I've created Simplero as a company to keep for the long haul, because I love the company, the business, the product, and—most importantly—our customers.
I've gotten to know so many of you personally over the years, and these are relationships that are very important to me. Simplero is how a lot of you feed not just yourselves, but your children and your partners, too. That makes me incredibly proud.
This is one of the main reasons I haven't taken any funding. Simplero is built 100% on sweat equity, savings, and revenue. Because most fundings require an exit, and most exits end up being really bad for the product and the customers, the two things that I care most about.
I'm continuing to invest my time, my money, and whatever other resources I have into Simplero. I have great visions for the product and the company, and being able to patiently work towards realizing that vision is a daily blessing in my life.
The coaching business to me is just a side project. I'm not doing it for the money. I'm doing it because doing that work is a way of nurturing and honoring my soul. I come out on the other side softer and more focused and more alive than before. Being a spiritual teacher is part of my purpose. It's in my hands as my friend Baeth Davis says. Not the whole purpose, but a part of it. And there many ways to live that, but doing one-on-one coaching is one way that I really enjoy.
A lot of us have purposes like these that we need to honor, or it's going to create a "kink in the hose" that blocks the flow in all areas of our lives—business, relationships, self-worth, love, etc. Another one for me is being in the spotlight, being on stage somehow, virtually or physically, getting applause.
It's very fascinating stuff. I bet you have areas like that in your life. It's very much worth honoring them.
If you haven't had your hands read by Baeth, I strongly recommend you do it. It's such a great tool, it gives you such actionable information for your life, and so far, every single thing Baeth has told me through all the sessions I've had with her has been spot-on.