Friend or Foe?
It's (still) 2017, baby!
Today's Calvin Show Episode is ... "Friend or Foe?"
We talk about:
Do you have enemies in business?
Getting legal threats from Zendesk
When to fire someone
Is the Universe really your friend? Really? 
Do I look like an 80s teen heartthrob or what??
Go watch it now, and remember to leave a question or a comment.
Like Giving Interviews?
I do. I love it. I've mentioned a couple times here that if you'd like to interview me for your audience, I'd love to participate.
Last month, fellow Simplerista Nicole Holland, interviewed me for her podcast, the Business Building Rockstars Show (here's her interview of me). After the interview I told her how much I'd enjoyed it, and that I'd love to do a lot more interviews, and I asked her if she'd be interested in helping me getting booked on other podcasts.
To say that she ran with that idea would be an understatement. The next day, she came back with a proposal, which I immediately jumped at. She's been super systematic and structured about it, coming up with a process that makes it super easy for me to show up and knock it out of the park. And she's been so great at continually improving the process, something I'm a big fan of. It's just such a joy to work with someone who's so committed and so excited about the work they do.
These days I'm doing about 4 interviews a week, and I basically just have to show up and be present. It's so much fun! All thanks to Nicole.
So if you're looking for increasing your visibility through giving interviews to podcasters, check out Nicole and her offering. You won't regret it. She's absolutely amazing, and it's been so much fun to watch her taking this idea and running with it.
Check out Nicole and what she does here.
Simplero Mentioned in Wired UK
Amanda Spann, we're eternally grateful for the shout-out in Wired UK. Than you SO much. If you're reading this, get in touch. Would love to talk to you.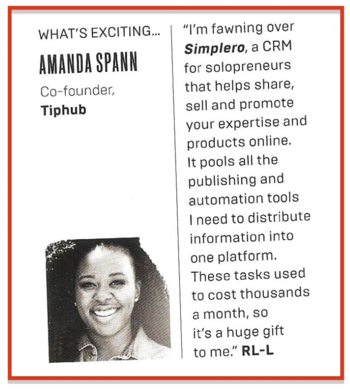 New Features in Simplero
With the new year in full swing, we're back at it working on the next big step in letting you customize Simplero to its fullest. For the non-coders, this will mostly happen in our new customizer interface, where you will be able to make changes and browse around your content live to see what it looks like as you're customizing it. We're really excited to have a much more powerful and intuitive tool for getting the look you desire along with some fresh templates, but for now, I'll leave you with a sneak peek:
For the internationally minded of you, there is however some very exciting news to share this week. One of our great customers, Dr. Vítor Oliveira, who runs his business, Opinião Médica, on Simplero, has put in a massive effort over the last weeks to fully translate Simplero into Portuguese. We can't thank Dr. Oliveira enough for his efforts on this!
Random Links from around the Interwebs
President Bartlet jacket flips. I did this for my most recent photo shoot this weekend. So much fun!
The dazzling and depressing architecture of density in megacities.
Official State of Vermont Maple Syrup logo. Oops!
Lots of love,
–Calvin