Meet Ellany Lea of Reinvented
Tell me a little about your business…
I have lived and worked from 104 countries! My business is called Reinvented, it's a haven for women entrepreneurs to be supported, championed and sheltered while they reinvent themselves. It's a place where they don't have to be the strongest person in the room nor become the best man they can be. It's a soft place to land to shift all their beliefs that they have to work like an ox to be happy and free. I have several digital nomads follow my work. I teach practical self-compassion and practical location-independent living. Simplero has played a huge part in making this possible. Thank you more than words can say! I'm really good at improv so would be excited to play with you on a podcast. I'm also really good at making lists, so can send you a list of speaking points if that works better for you. Cheerios! Ella
What brought you to Simplero?
Multi-system chaos from Aweber (for mailing list) + 1shopping cart (for e-commerce) + SendOwl (for e-course delivery) and I still couldn't tag my clients without buying additional connector apps.
How have you integrated Simplero into your business?
I write to my readers via Simplero. I deliver e-courses to my students via Simplero. I process all my client payments and auto-delivery of client materials via Simplero. There's nothing I don't do with Simplero
How has Simplero benefited your Business?
Oh. My. God. It's streamlined so gracefully everything I could possibly need in the digital space in ONE place. The relief I felt after everything was migrated to Simplero was just as good, maybe even better than the feeling of taking of ice skates after 3 hours in the cold.
What's something you've learned in business you'd wish someone had told you when you were starting out?
That some things take far longer than we think. That other things happen in a split second of serendipity. That some things are way harder than we think. That other things are so easy we wonder why we even procrastinated avoiding it.
What's a fun fact about you that someone would never guess?
I've had 7 different careers before I turned 30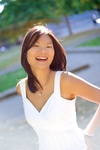 Ellany Lea
, CPCC, PCC, CDWF, is a certified success coach, positive psychologist, licensed psychotherapist, and lifestyle entrepreneur.
As
Chief Reinventor
, Ellany founded
Reinvented
, a haven for women overachievers, polymaths, entrepreneurs and founders to exhale, be real and feel enough. She's also a resiliency researcher, a writer and an illumination mentor.
Ellany has lived and worked in
100+ countries
, with past careers with the United Nations and Médecins Sans Frontières.
Her greatest accomplishment is having raised her parents without giving up on her own dreams.