ATTENTION: ENROLLMENT CLOSES IN
00
days
00
hours
00
mins
00
secs
Want the Secret Strategy to Going from Idea to Profitable Online Product?
In Less than 5 Days, Learn

EXACTLY

How to Turn "Just an Idea" Into a Sellable Product!
We live in a different world now. People are hungrier than ever to learn online. Feed them with your knowledge and build the dream life you've always wanted. The time has never been more perfect than right now.
Live Your Life Anywhere With A Laptop Business
Join the 5 day challenge and discover how to take a passion, a hobby, an idea, and turn it into a profitable online course that you can run from your laptop! 
Value: $997
Join today for only $55


MEET YOUR INSTRUCTORS
Calvin Correli



Founder and CEO of Simplero
Calvin launched his first course without an email list or any paid ads. Fast forward to now, and he's worked with thousands of course creators who've generated more than $150 million in revenue.
Calvin believes that entrepreneurship is more than just owning a business. It's about creating a life and legacy.
With this vision at the ready, Calvin will teach you the skills you need to launch your first course, so you can grow and scale your business and make a big impact on the world.
Damon Wilson



Head of Training at Simplero
Damon is the mastermind behind several online courses, including a successful course in a niche sport with a niche position. He uses this expertise to support the success of the amazing Simplero coaches and course creators.
He eats, breathes, and sleeps the online course world, staying on top of what works to build, launch, and sell courses online.
Damon lives the laptop lifestyle based out of Argentina even though he was born and raised in the US. Damon believes everyone has a course inside them and he knows that launching it is the fastest way to creating the freedom to live life on your terms.
The Laptop Lifestyle Challenge starts:
Monday, August 31st at 11am EST

00
days
00
hours
00
mins
00
secs
Ready to Take Your Lifestyle to a New Level? 
It's Damon here and I want to tell you a quick story.
It's a Tuesday night. 
I'm at the gym getting my workout in. 
Brutal leg day sesh. 
In between sets I feel my phone buzz. 
I reach into my pocket and pull it out. It's an automated text....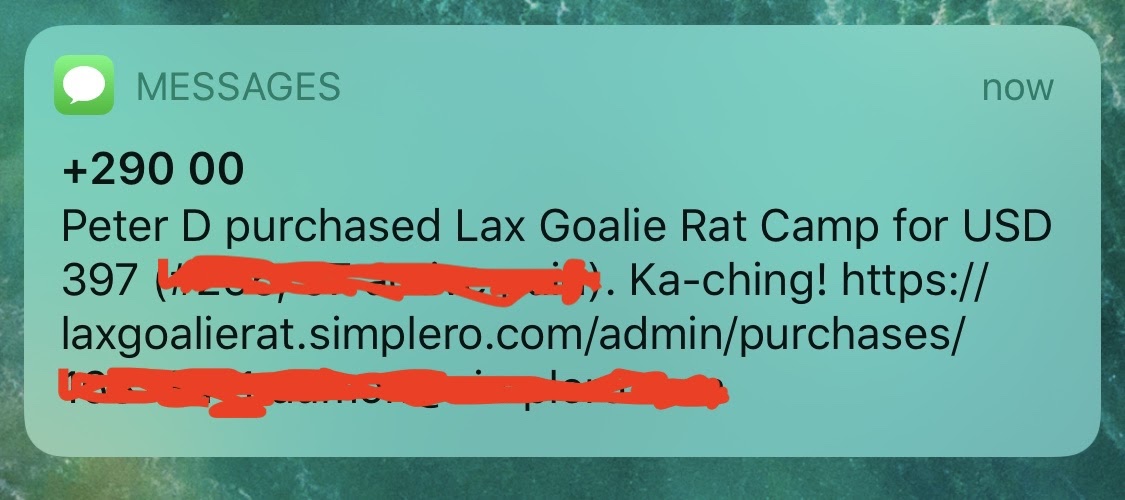 Wowww! Talk about an amazing feeling!! 
Why? 
Here I am on my own time, getting a workout in, and I'm now up $400. 
Then a few minutes later I check my email and my man Peter D has already written me an awesome note thanking me so much for putting out this training product. 
He's a lacrosse goalie Dad but never played and felt really lost trying to coach his son who just picked up the sport.
Now he's got the knowledge and confidence to help out and coach his boy. Talk about a great connection.  
And here's the thing - 
I made this course specifically for Dads like this.
The feedback from those going through my course lets me know I'm really helping out here and making a difference for this tiny community and that feels awesome. 
Armed with this rush of euphoria I get back into my workout. 
I squat a personal best for me at 110KG x 5.
Oh and by the way, I'm using KG there and not pounds because I'm in a gym in Córdoba, Argentina and I'm from the Bay Area.  
And to me, that's the power of launching your own online course: 
You can stop trading hours for dollars and make money on your own time

You can expand your reach and get your training into the hands of struggling parents and kids who really need it

You can do this from anywhere in the world using just your laptop
Now I'm on a mission to coach others to experience the feeling I got on that Tuesday in the gym.
Let's get you that Laptop Lifestyle!
- Damon
Value: $997
Join Today for Only $55 
Here's a Taste of What's in Store for Challengers! 
Beyond the Avatar
Understanding your ideal customer is essential. Whoever knows and serves their customer the best, wins. 
Learn to WIN!
Name the Dream
Breathe life into your course with the perfect name! Not only will it attract the exact type of customer you're looking for. It will also give your project energy and momentum to succeed!

Build the Bridge
Getting your customers from point A to point B is the name of the game and your course is this bridge. We give you the blueprint to close the gap!

Be Smooth on Video
As a course creator, you're teaching your content online, and yet most people are scared when it comes to actually recording videos. The good news is - it's a skill and you can learn it. We'll teach you in day 4. 

The Dollars and Sense
The million dollar question - how much should my course cost? On Day 5, we'll teach you a framework to answer that question and set your goals to live the Laptop Lifestyle. 

Bonuses and Prizes
The entire 5 day challenge is packed full of bonuses, prizes, and surprises every day. We want you to leave this challenge with your course structure done and feeling fully motivated. And we want you to have fun while doing it. 

Frequently Asked Questions
How is this training delivered?
Each day we'll do a Facebook Live in our private group at 11am EST to cover the day's topic. For those that purchase the VIP experience, you'll have Zoom access to participate with Calvin and Damon and stay on after the training to get any questions answered. 
I cannot attend the live call at 11am EST, will recordings be available?
Yes, absolutely. If you cannot attend a live session, you'll have immediate access to watch the recordings later in the day. We'd encourage you to attend live so you can participate and ask Calvin and Damon questions though. 
What support do we get?
Damon and other members of the Simplero team are active in the Facebook group the entire week giving you all the support you need. We want to ensure you're 100% successful in this challenge and we won't let any question go unanswered! 
How much time per day should we anticipate?
The training themselves will last 60-90 minutes depending on how many questions we get. The homework for each will be another 30 minutes. 
Should I take this challenge if I already have a course?
Yes! Guaranteed you will learn at least a few insights that you never thought of that could give you inspiration for a new course or change the way you market or launch your current course. 
What do I need to get started?
An idea - or several :) If you're reading this you probably already have an idea (or several) for something you could teach others - that's all you need. The idea. We'll show you the rest of how to take that idea and turn it into an outline with a name and even record your first video. 
Do I need to put my course on Simplero?
No. The concepts we will teach can be applied to any software package. That said, Simplero is an all-in-one software solution for course creators and we think it's the simplest and most fun way to run your business. 
What challengers are saying...
100% Money Back Guarantee
We're confident you're going to love this challenge! But, if for some reason the challenge isn't delivering for you, let us know before it ends. We'll give you a full refund.

Value: $997
Join Today for Only $55

Living the lifestyle you have dreamed of takes the right strategy and action. That's it.
Terms | Privacy Policy | Contact Support
Powerful Through Grace, Inc. · 2 North 6th Place · Suite 27E · Brooklyn, 11249 · United States